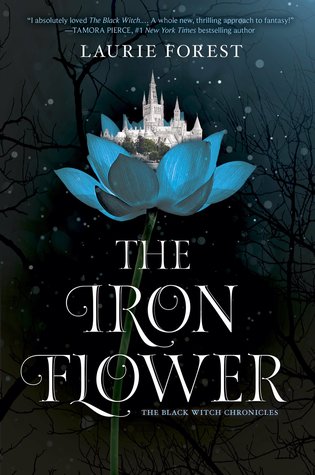 The Iron Flower
Author: Laurie Forest
Publication date: September 18, 2018
Genre: YA fantast
Pages: 608
Publisher: Harlequinn Teen
Buy It: Indigo | AmazonCA | B&N | AmazonUS
---
Synopsis
Elloren Gardner and her friends were only seeking to right a few wrongs, but their actions have propelled them straight into the ranks of the realm-wide Resistance against Gardnerian encroachment. As the Resistance struggles against the harsh rulings of High Priest Marcus Vogel and the Mage Council, Elloren begins to realize that none of the people she cares about will be safe if Gardneria seizes control of the Western Realm.
With tensions heating up in Verpacia, more and more Gardnerian soldiers continue to descend upon the university…led by none other than Lukas Grey, now commander of the newly rebuilt Fourth Division base. Though Elloren tries to keep him at arm's length, Lukas is determined to wandfast to her, convinced that she has inherited her grandmother's magic—the prophesied power of the Black Witch. As his very nearness seems to awaken a darkness inside her, Elloren finds it more and more difficult to believe that she's truly powerless, as her uncle always claimed.
Caught between her growing feelings for the rebellious Yvan Guriel and the seductive power offered by Lukas Grey, Elloren must find a way to stay true to what she knows is right and protect everyone she loves…even if that means protecting them from herself.
---
Sometimes books fall into that second book slump category and The Iron Flower was nowhere near that! This was an amazing Sequel to The Black Witch, if you enjoyed that then you will absolutely love this! This book really showed the authors ability to tell a story, her creativity, passion and the ability to adapt and listen to feedback.
The Iron Flower is packed full of magic, rebellion, adventure, excitement, romance, eye opening moments, heartbreak and friendship. I'll just say, grab the tissues because you'll need them for this book.
This book is over 600 pages long and while reading it, it didn't feel that way, the story flew by, it was so enjoyable and I felt like was transported into the story. Laurie Forest did an amazing job bringing us back into the this world. The world itself is rich, immersive, magical, well developed and full of problems and injustices mirrored in our societies today. The book does deal with heavy topics like racism, prejudice and the mistreatment and gross injustice of certain groups of people.
Elloren is such a fantastic main character, we saw her develop a lot of the the course of The Black Witch and she continues to do so throughout The Iron Flower. Elloren is determined to fight for what she believes is right, she will fight for the love she deserves and the fair treatment and justice for all people. Although she may look like her Grandmother, she isn't her grandmother, she has very different ideas about the world and the people and she wont stop fighting for it. She's also believes she is powerless, void of magic and will help and fight in any other way she can.
The book is nice and evenly paced with a bit more action at times and we get to see a lot more of the world. Elloren manages to travel to a few different areas and we get to meet some very interesting new characters. There are some pretty great plot twist in this book that you wont see coming!
What I really like about the author and the form of storytelling and writing she does is that she isn't afraid to be ruthless with her characters. She isn't afraid to break the hearts of her readers. Every move and every scene serves a purpose to the story and helps develop it, everything is so well thought out and foreshadowed, if you're not paying attention you'll really miss some important stuff. So, pay attention to the detail, pay attention to the little things said in passing.
The only reason I didn't give this book five stars is because my ship didn't sail, I was rooting so hard for that ship and it sunk *le sigh*.
I'm really excited to see what will happen in the next book, there are so many directions this series can go and so many different things that can happen. This is such an amazing high fantasy series and if you haven't read the first book The Black Witch I urge you to. If you haven't read it because of the controversy surrounding The Black Witch please do yourself a favour and read it, form your own opinions. I will continue to recommend this series to any fantasy lover I meet.