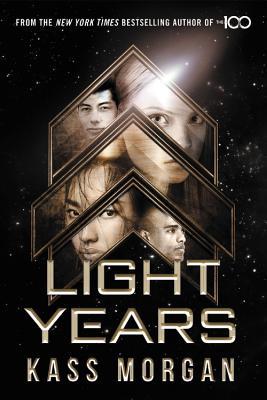 Light Years
Author: Kass Moragn
Publication date: October 9, 2018
Genre: YA Sci-fi
Pages: 377
Publisher: Little, Brown Books for Young Readers
Buy It: Indigo | AmazonCA | B&N | AmazonUS
---
Synopsis
Reeling from the latest attack by a mysterious enemy, the Quatra Fleet Academy is finally admitting students from every planet in the solar system after centuries of exclusivity.
Hotshot pilot Vesper, an ambitious Tridian citizen, dreams of becoming a captain – but when she loses her spot to a brilliant, wisecracking boy from the wrong side of the asteroid belt, it makes her question everything she thought she knew. Growing up on the toxic planet Deva, Cormak will take any chance he can get to escape his dead-end life and join the Academy – even if he has to steal someone's identity to do it. Arran was always considered an outsider on icy Chetire, always dreaming of something more than a life working in the mines. Now an incoming cadet, Arran is looking for a place to belong – he just never thought that place would be in the arms of a Tridian boy. And Orelia is hiding a dark secret – she's infiltrated the Academy to complete a mission, one that threatens the security of everyone there. But if anyone finds out who she really is, it'll be her life on the line.
These cadets will have to put their differences aside and become a team to defend their world from a cunning enemy – but the danger might be lurking closer to home than they think..
---
Light years is a a story about a group of young adults who have to put their differences aside and work together to overcome the odds and prove that they belong. They have to work together to defeat a security threat to save those they care about.
Light Years is told from four POVs who are all from different backgrounds, different planets and they all have a secret.
Cormack is from Deva which is a dying planet covered in toxic dust, he unexpectedly ends up at the academy.
Vesper is Tridian and was raised and trained to become an officer in the Quatara Fleet. Vesper has a point to prove and  wants to be recognized for her talent
Arran is from Chetire and scored the highest on the entrance exam to the academy, hes incredibly intelligent and wants to belong somewhere.
Orelia is from the planet Loos, she has a huge secret that is a security threat to the academy.
I really enjoyed this book, I thought it was interesting, it had a cast of fantastic characters who all bring something different to the story and I loved the setting (I'm a sucker for sci-fi). I really liked that the world Light Years is set in includes several different planets in the solar system. We learn that the outer planets Deva, Loos and Chetire are less desirable, the people are poor and are disliked from those living on Tridia. I would like to learn more about the outer planets, the tourmoil that divided them and why the Tridians look down and are prejudiced against everyone else. I'm hoping we get this in the next book.
My favourite characters were Cormack and Orelia. Cormack is a little bit cocky, a smart ass, incredibly intelligent and doesn't put up with anyone's crap. Orelia is quiet, mysterious, she has a huge secret and she's trying hard to fit in. Reading her chapters were my favourite because of her background.
There is one common enemy all four planets want to fight against and that the Spectres from a different solar system. For the past few years the Spectres have been launching attacks on some of the planets and the Quatara system wants to fight back. Throughout the book we learn little about this enemy and it appears that what the people of the Quatara systems have been told might not be entirely true. I hope we get to learn more about the Spectres int he second book.
While I really enjoyed this book I found the pacing slow and the story a bit dull at times. It's basically following the four characters throughout their time at the academy, there's no real action, disaster or excitement throughout the book. What makes the story interesting is the four characters themselves, each one is from a different background, has secrets and has been through something different which makes them intriguing.
Overall this was a great sci-fi and I'm really looking forward to the next book. If you like sci-fi, books surrounding friendship, teamwork, people rising against prejudice and an academy type setting you should pick this one up!