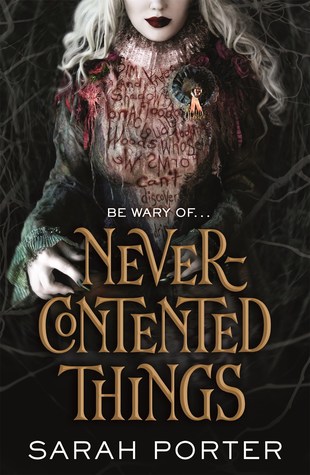 Never-Contented Things
Author: Sarah Porter
Publication date: March 19, 2019
Genre: YA Urban Fantasy
Pages: 368
Publisher: Tor Teen
---
Synopsis
Seductive. Cruel. Bored.
Be wary of… 
Prince and his fairy courtiers are staggeringly beautiful, unrelentingly cruel, and exhausted by the tedium of the centuries ― until they meet foster-siblings Josh and Ksenia. Drawn in by their vivid emotions, undying love for each other, and passion for life, Prince will stop at nothing to possess them.
First seduced and then entrapped by the fairies, Josh and Ksenia learn that the fairies' otherworldly gifts come at a terrible price ― and they must risk everything in order to reclaim their freedom.
---
★★★.5
This is not a book for everyone. there will be A LOT of people who don't like this book but I really really enjoyed it.
Never-Contented Things is utterly bizarre, strange and unusual. Its dark and dangerous, full of unlikable characters and will make you go WTF is going on here?
This is a dark evil, Fae story, but if you came here looking for Holly Black or Sarah J. Maas type Fae you're going to be sorely disappointed. These Fae are dark, evil, cruel, seductive, manipulative and hungry for blood.
The book is split into 6 different parts with each part being told form a different POV. The main characters are Joshua, Ksenia and Lexi. All of these characters are pretty complex and unique. Josh and Ksenia and foster brother and sister, Josh has lost a lot in his short life and feels like Ksenia is all he has left. Ksenia has also had a pretty rough life and she's been treated like she's worthless. Lexi is the golden girl, she's was raised in a well off family, she's headed to an Ivy League school and all she's know is love. Josh was a pretty unlikable character, he was a tad bit delusional and a whole lot manipulative. The relationship between Josh and Ksenia was a bit weird but its what the entire story revolves around.
At the start of the book I really wasn't sure I was going to enjoy it because the writing style isn't for me and the story is so bizarre but I ended up really enjoying it. I think the biggest problem people will have with this is the type of Fae the story has and the writing style. Its mostly inner monologue and not a whole lot of dialogue so if you're someone who loves dialogue like me, just keep that in mind.
For the first half of the book you don't really get to see and interact with the Fae creatures much they are mostly in the second half. They almost speak in riddles, they are otherworldly, evil and there are a lot of weird things surrounding them. This was definitely a unique take on Fae and its VERY different from any other Fae story I've ever read.
The pacing for the book was pretty good, I didn't really feel like it lagged at all and I was intrigued throughout. The only major thing I didn't like was the lack of world building. It was kind of there but it kind of wasn't I'm not sure it that was intentional but I would have liked a bit more.
Definitely if you are a fan of the strange, unusual and bizarre Id give this a try!