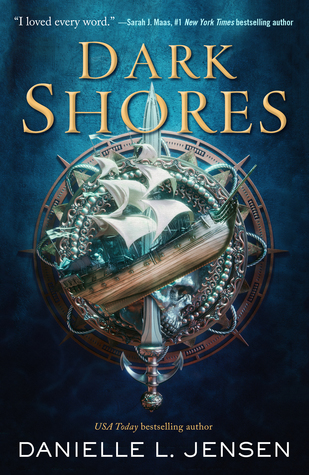 Dark Shores
Author: Danielle L. Jensen
Publication date: May 7, 2019
Genre: YA Fantasy
Pages: 368
Publisher: Tor Teen
---
Synopsis
In a world divided by meddlesome gods and treacherous oceans, only the Maarin possess the knowledge to cross the Endless Seas. But they have one mandate: East must never meet West.
A PIRATE WITH A WILL OF IRON
Teriana is the second mate of the Quincense and heir to the Maarin Triumvirate. Her people are born of the seas and the keepers of its secrets, but when her closest friend is forced into an unwanted betrothal, Teriana breaks her people's mandate so her friend might escape—a choice with devastating consequences. 
A SOLDIER WITH A SECRET
Marcus is the commander of the Thirty-Seventh, the notorious legion that has led the Celendor Empire to conquer the entire East. The legion is his family, but even they don't know the truth he's been hiding since childhood. It's a secret he'll do anything to protect, no matter how much it costs him – and the world. 
A DANGEROUS QUEST
When an Empire senator discovers the existence of the Dark Shores, he captures Teriana's crew and threatens to reveal Marcus's secret unless they sail in pursuit of conquest, forcing the two into an unlikely—and unwilling—alliance. They unite for the sake of their families, but both must decide how far they are willing to go, and how much they are willing to sacrifice.
---
★★★★★
Yea, so I freaking loved this book, I absolutely devoured it in a day. The one thing you need to know before going into this book is that it is NOT a pirate book. I repeat it is NOT a pirate book.
Dangerous Shores is full of incredible world building, politics, magic, meddlesome Gods, complex characters, adventure, a dangerous quest and its inspired by Ancient Rome.
Now that we've got that covered, what is this book about then? Well Dark Shores is inspired by Ancient Rome, thee are so many Ancient Rome vibes you cant mistake it for anything else. There is a sea voyage where a former pirate is forced to guide an army to an unknown world on a dangerous quest.
The story is told from two alternating POV's; Teriana who is the second mate to the ship Quinsence and Marcus who is the commander of an army with a brutal reputation. Teriana is tough, strong willed, witty, deeply compassionate and caring and will do anything to save her people and family, including divulging long kept secrets of her people. Marcus is seen as a ruthless commander who is unfeeling, cold and a monster. He has a pretty deep secret that would result in deadly consequences if it were to get out. Both of these characters are incredibly complex and flawed and there's a lot more than meets the eye to both of them. I could talk about them for hours but, you'll just need to read the book to see for yourself.
What I loved so much about this book was the adventure these characters go one. Both main characters basically have to abandon everything they know and love for this great quest, they have to work together  and trust each other to complete it. I also really loved the friendships that Teriana was able to form with the other soldiers of the army. She came to view them as actual humans and not a bunch of automatons doing the bidding of the ruler.
This world was so deeply built, the imagery was amazing, you could really picture what was going on, how the city streets and the villages looked. My favourite was probably the small village in the Dark Shores they came upon. The author did such an amazing job building this rich and dangerous world. The Gods that Teriana prays too were absolutely incredible and they seemed like they were kind of inspired by Greek Gods, there was a God who ruled the weather, the seas, spirituality etc. It was really neat to read about them.
Then obviously, it can't be an Danielle L. Jensen novel without a little bit of romance. I'm sure you can guess who the romance revolves around but I freaking loved it.
The only thing I wish there was more of was more book, I could have easily done with another hundred pages, spending more time in the Ancient Rome inspired city, spending a little more time at the beginning events of the book.
If you're a fan of adventure, quests, amazing world building and fascinating characters you'll absolutely love this. Also hello, this cover is STUNNING.
Thank you to Raincoast Books for gifting me a copy in exchange for an honest review.