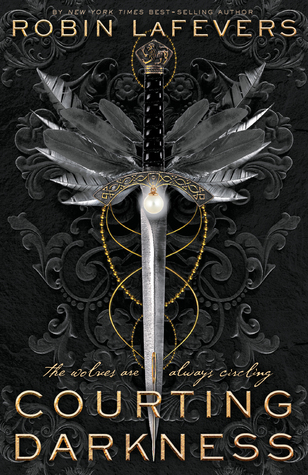 Courting Darkness
Author: Robin LaFevers
Publication date: February 5, 2019
Genre: YA Historical fanatsy
Pages: 512
Publisher: HMH Books for Young Readers
---
Synopsis
Death wasn't the end, it was only the beginning…
Sybella has always been the darkest of Death's daughters, trained at the convent of Saint Mortain to serve as his justice. But she has a new mission now. In a desperate bid to keep her two youngest sisters safe from the family that nearly destroyed them all, she agrees to accompany the duchess to France, where they quickly find themselves surrounded by enemies. Their one ray of hope is Sybella's fellow novitiates, disguised and hidden deep in the French court years ago by the convent—provided Sybella can find them.
Genevieve has been undercover for so many years, she struggles to remember who she is or what she's supposed to be fighting for. Her only solace is a hidden prisoner who appears all but forgotten by his guards. When tragedy strikes, she has no choice but to take matters into her own hands—even if it means ignoring the long awaited orders from the convent.
As Sybella and Gen's paths draw ever closer, the fate of everything they hold sacred rests on a knife's edge. Will they find each other in time, or will their worlds collide, destroying everything they care about?
---
Review
★★★★
Courting Darkness is set in the late 15th century following two main characters Sybella and Genevieve. These two characters are part of the convent of Saint Mortain, the God of Death. Basically they are assassins doing the bidding of the God of Death, they also happen to be his daughters.
The story is told from alternating POVs of Sybella and Genevieve as they embark on different journeys to carry out missions assigned by the convent. Sybella and Genevieve are both trying to stop evil forces at work while dealing with the feeling of being abandoned by Saint Mortain.
This was such a unique story full of history, deceit, corruption, death and strong females. There is also a ton of political intrigue throughout as Sybella is posing as a lady in waiting to the Duchess and Genevieve has infiltrated the French Court. For the most part the story was captivating and intriguing, the last 2/3 of the book were a lot more fast paced and action packed than the first 1/3.
Both Sybella and Genevieve are incredibly strong female characters who are intelligent, determined, courageous, quick witted and deadly. I really enjoyed both of them, I found Genevieve to be quite funny at times even though she has a tough outer shell and "don't mess with me" attitude she is kind hearted and cares deeply for her friends. Sybella is strong and fiercely protective she's incredibly quick witted and throws back handed insults like it's her job.
Once I was really into the story I was completely hooked, I needed to know what was going to happen and how the events were going to unfold. The whole concept of this world and the Assassins and God's is fascinating and I can't wait to read more!
While I did enjoy this story I feel like you really need to read His Fair Assassins to understand the whole concept of the assassins and the Gods. As I have not read them a few things were pretty confusing or didn't make sense to me.
If you've read His Fair Assassins and enjoyed it I would definitely recommend picking up courting Darkness. Or if Assassin nuns, death and politics spark you interest this is for you!
Thank you to the publisher and Raincoast Books for gifting me a copy for review.
---
Author Q & A
Ainslee: Which character in Courting Darkness was the most fun or your favourite to write?
Robin: Well I've always had an enormous soft spot for both Sybella and Beast, so they are perennial favorites. But early on, the character that became Genevieve started whispering in my ear, urging me to write a sort of character I hadn't written before, daring me not to. Daring me to ignore her. I promptly fell in love.
As her backstory unfolded, I became more and more intrigued by this girl who was raised in such a supportive, loving environment, even though it was the most lowly of beginnings. She wasn't escaping a brutal reality or haunted by a traumatic past. Her family wanted to give her more opportunities than they had had—but that comes at a cost: the loss of family and support. And I was fascinated—and impressed by—her determination to do something to make those costs worthwhile. She also has a wildly practical streak that I couldn't help but admire.
I also admired her ambition. She believed in herself and refused to let the world quash those dreams. I think that's so important for us to see more female characters who dare to do that! Also? She didn't take any nonsense from any men. Ever. And how could I not love that? I loved writing the interplay between she and Maraud. I loved them not knowing how much to trust the other. Wanting to, but not quite being able to risk it. And I really enjoyed watching the power dynamic flip between them as they took turns getting the upper hand.
---