Top Ten Tuesday meme hosted by That Artsy Reader Girl
---
This weeks topic is the 10 most recent additions to my TBR. For this I'm going with my 10 most recent purchases.
In January I *may* have bought quite a few books, I had a gift card to Chapters plus a $20 off coupon AND it was my birthday this month. There's also one ARC.
The majority of these are sequels so don't read the synopsis unless you've read the previous books?
---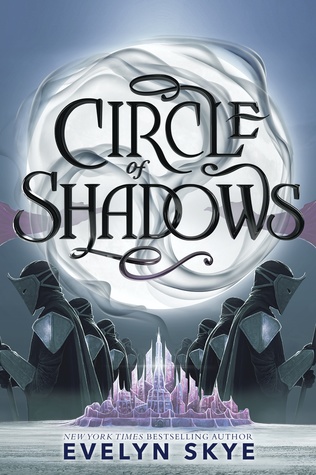 Circle of Shadows by Evelyne Skye
Sora can move as silently as a ghost and hurl throwing stars with lethal accuracy. Her gemina, Daemon, can win any physical fight blindfolded and with an arm tied behind his back. They are apprentice warriors of the Society of Taigas—marked by the gods to be trained in magic and the fighting arts to protect the kingdom of Kichona.
As their graduation approaches, Sora and Daemon look forward to proving themselves worthy of belonging to the elite group—but in a kingdom free of violence since the Blood Rift Rebellion many years ago, it's been difficult to make their mark. So when Sora and Daemon encounter a strange camp of mysterious soldiers while on a standard scouting mission, they decide the only thing to do to help their kingdom is to infiltrate the group.Taking this risk will change Sora's life forever—and lead her on a mission of deception that may fool everyone she's ever loved.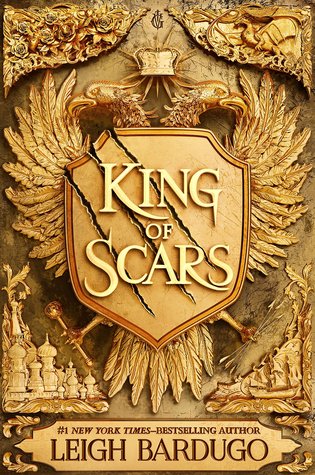 King of Scars by Leigh Bardugo
Nikolai Lantsov has always had a gift for the impossible. No one knows what he endured in his country's bloody civil war—and he intends to keep it that way. Now, as enemies gather at his weakened borders, the young king must find a way to refill Ravka's coffers, forge new alliances, and stop a rising threat to the once-great Grisha Army.
Yet with every day a dark magic within him grows stronger, threatening to destroy all he has built. With the help of a young monk and a legendary Grisha Squaller, Nikolai will journey to the places in Ravka where the deepest magic survives to vanquish the terrible legacy inside him. He will risk everything to save his country and himself. But some secrets aren't meant to stay buried—and some wounds aren't meant to heal.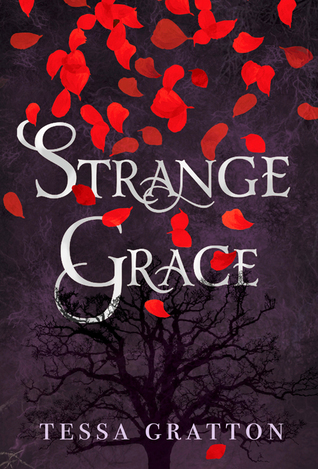 Strange Grace by Tessa Gratton
Once, a witch made a pact with a devil. The legend says they loved each other, but can the story be trusted at all?
Long ago, a village made a bargain with the devil: to ensure their prosperity, when the Slaughter Moon rises, the village must sacrifice a young man into the depths of the Devil's Forest.
Only this year, the Slaughter Moon has risen early.
Bound by duty, secrets, and the love they share for one another, Mairwen, a spirited witch; Rhun, the expected saint; and Arthur, a restless outcast, will each have a role to play as the devil demands a body to fill the bargain. But the devil these friends find is not the one they expect, and the lies they uncover will turn their town—and their hearts—inside out.
Year One by Nora Roberts
It began on New Year's Eve.
The sickness came on suddenly, and spread quickly. The fear spread even faster. Within weeks, everything people counted on began to fail them. The electrical grid sputtered; law and government collapsed–and more than half of the world's population was decimated.
Where there had been order, there was now chaos. And as the power of science and technology receded, magic rose up in its place. Some of it is good, like the witchcraft worked by Lana Bingham, practicing in the loft apartment she shares with her lover, Max. Some of it is unimaginably evil, and it can lurk anywhere, around a corner, in fetid tunnels beneath the river–or in the ones you know and love the most.
As word spreads that neither the immune nor the gifted are safe from the authorities who patrol the ravaged streets, and with nothing left to count on but each other, Lana and Max make their way out of a wrecked New York City. At the same time, other travelers are heading west too, into a new frontier. Chuck, a tech genius trying to hack his way through a world gone offline. Arlys, a journalist who has lost her audience but uses pen and paper to record the truth. Fred, her young colleague, possessed of burgeoning abilities and an optimism that seems out of place in this bleak landscape. And Rachel and Jonah, a resourceful doctor and a paramedic who fend off despair with their determination to keep a young mother and three infants in their care alive.
In a world of survivors where every stranger encountered could be either a savage or a savior, none of them knows exactly where they are heading, or why. But a purpose awaits them that will shape their lives and the lives of all those who remain.
The end has come. The beginning comes next
This Splintered Silence by Kayla Olsen
Lindley Hamilton has been the leader of the space station Lusca since every first-generation crew member on board, including her mother, the commander, were killed by a deadly virus.
Lindley always assumed she'd captain the Lusca one day, but she never thought that day would come so soon. And she never thought it would be like this—struggling to survive every day, learning how to keep the Lusca running, figuring out how to communicate with Earth, making sure they don't run out of food.
When a member of the surviving second generation dies from symptoms that look just like the deadly virus, though, Lindley feels her world shrinking even smaller. The disease was supposed to be over; the second generation was supposed to be immune. But as more people die, Lindley must face the terrifying reality that either the virus has mutated or something worse is happening: one of their own is a killer.
Unearthed by Amie Kaufman & Meagan Spooner
When Earth intercepts a message from a long-extinct alien race, it seems like the solution the planet has been waiting for. The Undying's advanced technology has the potential to undo environmental damage and turn lives around, and Gaia, their former home planet, is a treasure trove waiting to be uncovered.
For Jules Addison and his fellow scholars, the discovery of an alien culture offers unprecedented opportunity for study… as long as scavengers like Amelia Radcliffe don't loot everything first. Mia and Jules' different reasons for smuggling themselves onto Gaia put them immediately at odds, but after escaping a dangerous confrontation with other scavvers, they form a fragile alliance.
In order to penetrate the Undying temple and reach the tech and information hidden within, the two must decode the ancient race's secrets and survive their traps. But the more they learn about the Undying, the more their presence in the temple seems to be part of a grand design that could spell the end of the human race…
A Conspiracy of Stars by Olivia A. Cole
Octavia has only ever had one goal: to follow in the footsteps of her parents and become a prestigious whitecoat, one of the scientists who study the natural wonders of Faloiv. The secrets of the jungle's exotic plants and animals are protected fiercely in the labs by the Council of N'Terra, so when the rules suddenly change, allowing students inside, Octavia should be overjoyed.
But something isn't right. The newly elected leader of the Council has some extremist views about the way he believes N'Terra should be run, and he's influencing others to follow him. When Octavia witnesses one of the Faloii—the indigenous people of Faloiv—attacked in front of her in the dark of night, she knows the Council is hiding something. They are living in separate worlds on a shared planet, and their fragile peace may soon turn into an all-out war.
With the help of Rondo, a quiet boy in class with a skill for hacking, and her inquisitive best friend, Alma, Octavia is set on a collision course to discover the secrets behind the history she's been taught, the science she's lived by, and the truth about her family.
---
SEQUELS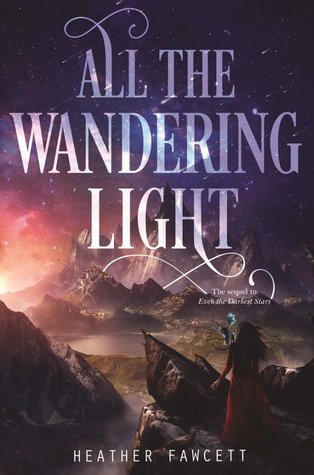 All The Wandering Light by Heather Fawcett
After the terrifying events on Mount Raksha, the witches have returned, and River has betrayed Kamzin to regain his dark powers. The witches' next step: march on the Three Cities and take over the Empire—led by River's brother, Esha.
If Kamzin is to save Azmiri and prevent the fall of the Empire, she must find a star that fell in the Ash Mountains to the north. Fallen stars have immense power, and if Kamzin and Lusha can find the star, they can use its magic to protect the Empire. To get there, Kamzin has allied with Azar-at, the dangerous and deceptive fire demon, who can grant her great power—in exchange for pieces of her soul. But River wants the star too, and as their paths collide in dangerous and unexpected ways, Kamzin must wrestle with both her guilt and her conflicted feelings for the person who betrayed her.
Facing dark magic, a perilous journey, and a standoff against the witches, can Kamzin, Lusha, and Tem find the star and save their Empire?
Kingsbane by Claire Legrand
Rielle Dardenne has been anointed Sun Queen, but her trials are far from over. The Gate keeping the angels at bay is falling. To repair it, Rielle must collect the seven hidden castings of the saints. Meanwhile, to help her prince and love Audric protect Celdaria, Rielle must spy on the angel Corien — but his promises of freedom and power may prove too tempting to resist. Centuries later, Eliana Ferracora grapples with her new reality: She is the Sun Queen, humanity's long-awaited savior. But fear of corruption — fear of becoming another Rielle — keeps Eliana's power dangerous and unpredictable. Hunted by all, racing against time to save her dying friend Navi, Eliana must decide how to wear a crown she never wanted — by embracing her mother's power, or rejecting it forever.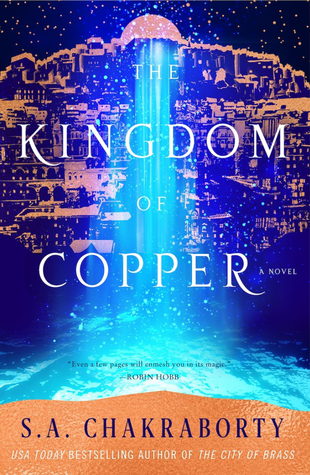 The Kingdom of Copper by S.A Chakraborty
Nahri's life changed forever the moment she accidentally summoned Dara, a formidable, mysterious djinn, during one of her schemes. Whisked from her home in Cairo, she was thrust into the dazzling royal court of Daevabad and quickly discovered she would need all her grifter instincts to survive there.
Now, with Daevabad entrenched in the dark aftermath of the battle that saw Dara slain at Prince Ali's hand, Nahri must forge a new path for herself, without the protection of the guardian who stole her heart or the counsel of the prince she considered a friend. But even as she embraces her heritage and the power it holds, she knows she's been trapped in a gilded cage, watched by a king who rules from the throne that once belonged to her familyand one misstep will doom her tribe.
Meanwhile, Ali has been exiled for daring to defy his father. Hunted by assassins, adrift on the unforgiving copper sands of his ancestral land, he is forced to rely on the frightening abilities the maridthe unpredictable water spiritshave gifted him. But in doing so, he threatens to unearth a terrible secret his family has long kept buried.
And as a new century approaches and the djinn gather within Daevabad's towering brass walls for celebrations, a threat brews unseen in the desolate north. It's a force that would bring a storm of fire straight to the city's gates . . . and one that seeks the aid of a warrior trapped between worlds, torn between a violent duty he can never escape and a peace he fears he will never deserve.