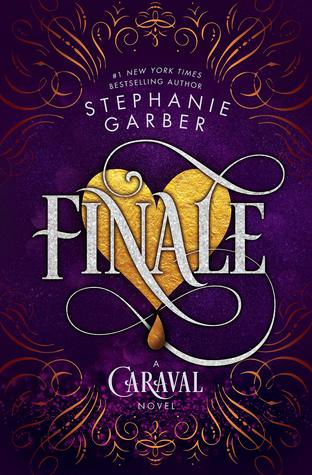 Finale
Author: Stephanie Garber
Publication date: May 7, 2019
Genre: YA fantasy
Pages: 496
Publisher: Flatiorn Books
---
Synopsis
Welcome, welcome to Caraval…all games must come to an end.
It's been two months since the last Caraval concluded, two months since the Fates have been freed from an enchanted deck of cards, two months since Tella has seen Legend, and two months since Legend claimed the empire's throne as his own. Now, Legend is preparing for his official coronation and Tella is determined to stop it. She believes her own mother, who still remains in an enchanted sleep, is the rightful heir to the throne.
Meanwhile, Scarlett has started a game of her own. She's challenged Julian and her former fiancé, Count Nicolas d'Arcy, to a competition where the winner will receive her hand in marriage. Finaly, Scarlett feels as if she is in complete control over her life and future. She is unaware that her mother's past has put her in the greatest danger of all.
Caraval is over, but perhaps the greatest game of all has begun―with lives, empires, and hearts all at stake. There are no spectators this time: only those who will win…and those who will lose everything. . .
---
★★★★★
Magnificent, magical, twisted and enthralling.
I can't even express to you how much I love this world and these characters that Stephanie Garber has created. The Caraval series one of my absolute favourites and it has one of my favourite male characters in it. I will continue to yell from the rooftops about how amazing it is and tell people to read it. If you haven't read it, stop yourself and do that.
Its no surprise to me that I absolutely loved Finale, how could I not? This world and the characters are incredible, its dark, magical, dangerous and seductive, the world will pull you in. I am so incredibly sad this series is over.
Finale is told from both Tella and Scarlett's POV, there is definitely a lot more Tella which I was absolutely okay with. The book starts off a few weeks after the end of Legendary, The Fates have been released and are gaining power, Scar & Tella's mother is alive, Legend is playing the heir to the kingdom and its basically a giant mess.
I loved the plot of this book, there's a whole lot going on, Scarlett and Tella's story lines are relatively separate from each other but everything comes together in the end. I loved the evolution of Scarlett and Julian's relationship, its strained, theres so much emotion and they would do anything for each other. It was great watching their whole story unfold.
Tella and Legend, oh Legend. He's one of my absolute favourite male characters in fiction. He's incredibly complex, mysterious and dark. Its a push and pull kind of relationship between the two of these characters, I personally want them together forever. I could read a thousand stories about these two. The entire book you're just screaming at the book being like "OMG WHAT ARE YOU TWO DOING" the. entire. time.
And of course Jacks is back, because why wouldn't he be? A devilishly handsome fate, thrown between Tella and Legend? You know there's going to be trouble!
I'd love to talk about the ending of this book and series so much but I can't. I don't want to say anything in case I accidentally spoil something. But damn, the ending.
I freaking loved this, I'm giving it all the damn stars because I can. I love Stephanie Garber's writing, its magical, its dark, it pulls you in, you don't want to stop reading and very few authors do that to me. So hats off to you Stephanie, a huge round of applause for such a magnificent story. I am so incredibly sad it's over.
Now I know I said I absolutely loved this book but there were some minor things that didn't jive with me. The whole Nicolas plot point competition was a bit unnecessary, it didn't add that much to the story. There were a few scenes that were supposed to be shocking/disturbing that I just didn't feel it, there was no shock factor for me. Maybe I'm just used to super dark things? I'm not sure. And finally the ending, you know how the book is going to end when you start it, how could it not end that way? But I felt like I needed a bit more from it, there's one thing about it that didn't make sense to me, but I obviously cant say what that was.
Thank you to Raincoast books for gifting me a copy in exchange for an honest review.