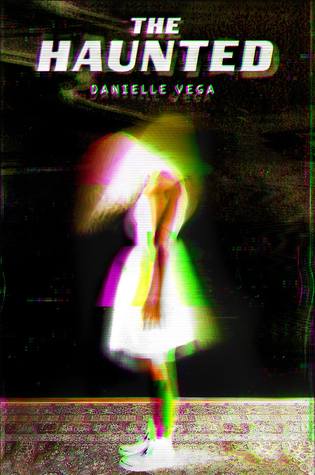 The Haunted
Author: Danielle Vega
Publication date: June 4, 2019
Genre: YA Horror/parnormal
Pages: 304
Publisher: Razorbill
---
Synopsis
Clean slate. That's what Hendricks Becker-O'Malley's parents said when they moved their family to the tiny town of Drearfield, New York. Hendricks wants to lay low and forget her dark, traumatic past. Forget him. But things don't go as planned.
Hendricks learns from new friends at school that Steele House–the fixer upper her parents are so excited about–is notorious in town. Local legend says it's haunted. But Hendricks isn't sure if it's the demons of her past haunting her …or of the present. Voices whisper in her ear as she lays in bed. Doors lock on their own. And, then, one night, things take a violent turn. 
With help from the mysterious boy next door, Hendricks makes it her mission to take down the ghosts . . . if they don't take her first.
---
★★★.75
The Haunted is a YA paranormal horror story that follows the main character Hendricks as she moves to a new town for a fresh start. Hendricks family moves into an old house that has a dark and brutal past, as if old houses aren't creepy enough, it's also haunted.
I really enjoyed this book, it's by no means scary, just a little creepy. It's about ghosts so if you're like me and are terrified of ghosts you probably want to read this during daylight. It has your basic ghostly elements, noises, lights flickering, voices, footsteps, apparitions etc. but it does take apparitions to a disturbing level near the end.
The Haunted is a pretty short book which made it a quick read for me, the pacing was great, I read it in a few hours but I honestly couldn't put it down. Something interesting or creepy was happening on every page and I just need to know what was going to happen. This book did have a few twists and turns to it, which made it interesting.
I did enjoy the characters for the most part, the teenagers seemed pretty realistic and the highschool has your standard cliques.. the popular kids, jocks, loners etc. Hendricks is immediately pulled into the popular kids group as she's the new girl in a small town. I will say that school and her friends don't play a huge role in the story and I honestly would have liked to see a bit more of them.
I think my favourite parts were the haunting's, they were a little creepy and pretty intense. Some of them were definitely a bit disturbing which just added to the creepy atmosphere of the story.
I did have a few issues with the book, it just seemed like something was missing, I'm not sure if that's because it's short or because it read a little choppy to me but I just felt like I needed more. I also wasn't too fond of the romance in the story, there is a love triangle and insta-love which aren't my favourite tropes, and part of the romance just felt forced. And the final thing I didn't like was the ending, a lot of things were left open ended which could have easily been tied up.
If you'e looking for something that's fast paced and a little creepy I think this would be an excellent book to pick up. Or maybe you want to dip you toes into the horror world this would be a great choice! Overall this was a pretty good book.