So, I didn't manage to read a ton of backlist books in March, only 3 because I read a lot of ARCs. But I did enjoy the three books I read!
Here are the backlist books I read: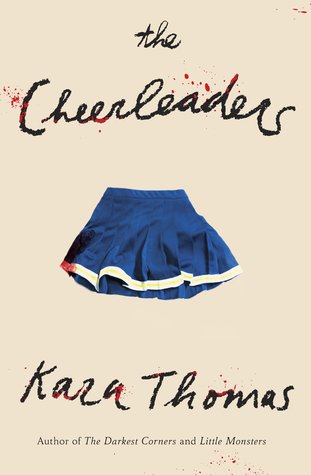 Publication date: July 31, 2018
Rating: ★★★★
Thoughts: I listened to the audiobook for this and it was great. This is a mystery thriller and you really have no idea who did it. It also deals with some heavy topics such as suicide, grief, death and survivors guilt.
Synopsis
There are no more cheerleaders in the town of Sunnybrook.
First there was the car accident—two girls gone after hitting a tree on a rainy night. Not long after, the murders happened. Those two girls were killed by the man next door. The police shot him, so no one will ever know why he did it. Monica's sister was the last cheerleader to die. After her suicide, Sunnybrook High disbanded the cheer squad. No one wanted to be reminded of the girls they lost.
That was five years ago. Now the faculty and students at Sunnybrook High want to remember the lost cheerleaders. But for Monica, it's not that easy. She just wants to forget. Only, Monica's world is starting to unravel. There are the letters in her stepdad's desk, an unearthed, years-old cell phone, a strange new friend at school. . . . Whatever happened five years ago isn't over. Some people in town know more than they're saying. And somehow Monica is at the center of it all.
There are no more cheerleaders in Sunnybrook, but that doesn't mean anyone else is safe.
Publication date: October 2, 2018
Rating: ★★★
Thoughts: So, I LOVED The Gentleman's Guide and I was very excited for this one. But unfortunately it didn't live up to my expectations. It was a good story but I pretty much felt bored throughout the entire book. I wanted so much more from Felicity, she's such an intelligent, rebellious young woman.
Synopsis
A year after an accidentally whirlwind grand tour with her brother Monty, Felicity Montague has returned to England with two goals in mind—avoid the marriage proposal of a lovestruck suitor from Edinburgh and enroll in medical school. However, her intellect and passion will never be enough in the eyes of the administrators, who see men as the sole guardians of science.
But then a window of opportunity opens—a doctor she idolizes is marrying an old friend of hers in Germany. Felicity believes if she could meet this man he could change her future, but she has no money of her own to make the trip. Luckily, a mysterious young woman is willing to pay Felicity's way, so long as she's allowed to travel with Felicity disguised as her maid.
In spite of her suspicions, Felicity agrees, but once the girl's true motives are revealed, Felicity becomes part of a perilous quest that leads them from the German countryside to the promenades of Zurich to secrets lurking beneath the Atlantic.
Publication date: June 1, 2017
Rating: ★★★★★
Thoughts: This was a re-read, Moira Fowley-Doyle is one of my all time favourite authors and I love this, obviously. This is dark, creepy, atmospheric, full of diversity, friendship and romance. Everyone should read this, you wont be sorry.
Synopsis
One stormy summer night, Olive and her best friend, Rose, begin to lose things. It starts with simple items like hair clips and jewellery, but soon it's clear that Rose has lost something bigger; something she won't talk about.
Then Olive meets three wild, mysterious strangers: Ivy, Hazel and Rowan. Like Rose, they're mourning losses – and holding tight to secrets.
When they discover the ancient spellbook, full of hand-inked charms to conjure back lost things, they realise it might be their chance to set everything right. Unless it's leading them towards secrets that were never meant to be found . . .