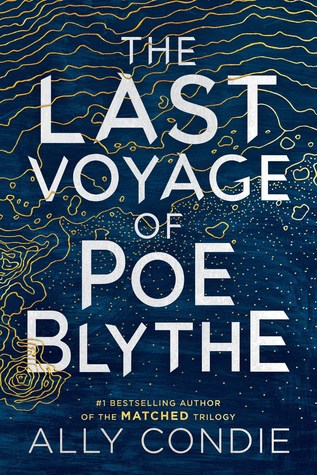 The Last Voyage of Poe Blythe
Author: Ally Condie
Publication date: March
Genre: YA fantasy
Pages: 336
Publisher: Dutton Books for Young Readers
---
Synopsis
Who do you become when you have nothing left to lose?
There is something Poe Blythe, the seventeen-year-old captain of the Outpost's last mining ship, wants far more than the gold they tear from the Serpentine River. 
Revenge. 
Poe has vowed to annihilate the river raiders who robbed her of everything two years ago. But as she navigates the treacherous waters of the Serpentine and realizes there might be a traitor among her crew, she must also reckon with who she has become, who she wants to be, and the ways love can change and shape you. Even—and especially—when you think all is lost.
Ally Condie, the international bestselling author of the Matched trilogy, returns with an intricately crafted and emotionally gripping story of one young woman's journey to move beyond the grief and anger that control her and find the inner strength to chart her own course.
---
★★★★.5 
I really enjoyed this book. It was such a quick read full of adventure, danger, heartbreak, revenge, flawed characters, betrayal and understanding. The story is intense, full of schemes, traitors, sneaking about and danger. I honestly couldn't put this book down especially when I was near the end. I was in the middle of making dinner and completely forgot about it, my spaghetti turned to mush that's how drawn in I was.
Here's what you need to know about this story for my review to make sense: this is set in a dystopian maybe post apocalyptic world (there are hints to a previous time with more technology), The Outpost is a "safe haven" ruled by the Admiral, anyone outside The Outpost is a Raider and is hated, The Outpost has been mining the Serpentine River for years, The Raiders have been killing the people on this mining ships from The Outpost, The Outpost is doing its LAST mining voyage.
Two years ago Poe Blythe the main character lost everything she knew and loved on her first voyage on a mining ship. After the incident she vowed to get her revenge and she created brutal armour for the remaining mining ship so no raiders could board and ruin anyone else's life like they did hers.
Poe is such an incredibly flawed character and I loved it. She lost the love of her live and because of this she is so blinded by her revenge, revenge is all she cares about. She's also a little power hungry even if she doesn't want to admit it, she's weary of people and doesn't trust anyone and she really, really cares about her boat. Poe is also completely consumed by her grief that she keeps imagining others as her lost love who she knows is dead, this results in her ending up in some sticky situations.
I really liked the plot of this first of all GOLD, as a geologist this caught my eye. Second off the plot is pretty straightforward, you know where its going but there are a few twists and turns where you're like, well, alrighty then! Things in The Outpost are"too good to be true", there's obviously something more going on but WHAT?!
I wish there was so much more world building, I have so many unanswered questions. How do the raiders have such advanced technology? what happened to this world? are there more settlements? what happened at the end? I feel like there could easily have been another 100 pages to answer these questions and I would have been totally okay with that.
Add this to your TBR you wont be sorry! I only have an advanced copy without the cover so I'm going to need to g myself a gorgeous finished copy. The cover is so simple and so damn beautiful!
Thank you to the publisher for gifting me an advanced copy in exchange for an honest review.