So, I did a YA sci-fi/dystopian post and thought I'd do one about retellings. So, I mainly wanted actual retellings but a few of these stories are more inspired by than an actual retelling, which I think is fine!
Now, there's a lot. Like I mean A LOT so buckle up, and I hope you find a few that spike your interest.
As always, if there are retellings that you know of that are not on this list please let me know and I'll add them!
January
---
Title: Echo North
Author: Joanna Ruth Meyer
Release date: January 15, 2019
Retelling of: East of the Sun and West of the Moon
Echo Alkaev's safe and carefully structured world falls apart when her father leaves for the city and mysteriously disappears. Believing he is lost forever, Echo is shocked to find him half-frozen in the winter forest six months later, guarded by a strange talking wolf—the same creature who attacked her as a child. The wolf presents Echo with an ultimatum: If she lives with him for one year, he will ensure her father makes it home safely. But there is more to the wolf than Echo realizes.
In his enchanted house beneath a mountain, each room must be sewn together to keep the home from unraveling, and something new and dark and strange lies behind every door. When centuries-old secrets unfold, Echo discovers a magical library full of books-turned-mirrors, and a young man named Hal who is trapped inside of them. As the year ticks by, the rooms begin to disappear, and Echo must solve the mystery of the wolf's enchantment before her time is up, otherwise Echo, the wolf, and Hal will be lost forever.
Title: Stain
Author: A.G Howard
Release date: January 15, 2019
Retelling of: The Princess and the Pea
Once upon a nightmare, her fairy tale begins…
After Lyra—a princess incapable of speech or sound—is cast out of her kingdom of daylight by her wicked aunt, a witch saves her life, steals her memories, and raises her in an enchanted forest … disguised as a boy known only as Stain. Meanwhile, in Lyra's rival kingdom, the prince of thorns and night is dying, and the only way for him to break his curse is to wed the princess of daylight, for she is his true equal. As Lyra rediscovers her identity, an impostor princess prepares to steal her betrothed prince and her crown. To win back her kingdom, save the prince, and make peace with the land of the night, Lyra must be loud enough to be heard without a voice, and strong enough to pass a series of tests—ultimately proving she's everything a traditional princess is not.
Title: 96 Words for Love
Author: Rachel Roy & Ava Dash
Release date: January 15, 2019
Retelling of: Indian legend of Shakuntala and Dushyanta
Ever since her acceptance to UCLA, 17-year-old Raya Liston has been quietly freaking out. She feels simultaneously lost and trapped by a future already mapped out for her.
Then her beloved grandmother dies, and Raya jumps at the chance to spend her last free summer at the ashram in India where her grandmother met and fell in love with her grandfather. Raya hopes to find her center and her true path. But she didn't expect to fall in love… with a country of beautiful contradictions, her fiercely loyal cousin, a local girl with a passion for reading, and a boy who teaches her that in Sanskrit, there are 96 different ways to say the word "love."
Title: The Cold is in Her Bones
Author: Peternelle van Arsdale
Release date: January 22, 2019
Retelling of: Medusa
Milla knows two things to be true: Demons are real, and fear will keep her safe.
Milla's whole world is her family's farm. She is never allowed to travel to the village and her only friend is her beloved older brother, Niklas. When a bright-eyed girl named Iris comes to stay, Milla hopes her loneliness might finally be coming to an end. But Iris has a secret she's forbidden to share: The village is cursed by a demon who possesses girls at random, and the townspeople live in terror of who it will come for next.
Now, it seems, the demon has come for Iris. When Iris is captured and imprisoned with other possessed girls, Milla leaves home to rescue her and break the curse forever. Her only company on the journey is a terrible new secret of her own: Milla is changing, too, and may soon be a demon herself.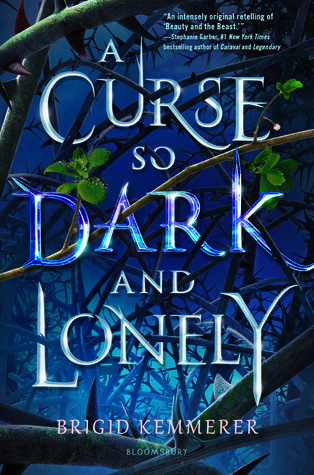 Title: A Curse so Dark and Lonely
Author: Brigid Kemmerer
Release date: January 29, 2019
Retelling of: Beauty and the Beast
Fall in love, break the curse. 
It once seemed so easy to Prince Rhen, the heir to Emberfall. Cursed by a powerful enchantress to repeat the autumn of his eighteenth year over and over, he knew he could be saved if a girl fell for him. But that was before he learned that at the end of each autumn, he would turn into a vicious beast hell-bent on destruction. That was before he destroyed his castle, his family, and every last shred of hope.
Nothing has ever been easy for Harper Lacy. With her father long gone, her mother dying, and her brother barely holding their family together while constantly underestimating her because of her cerebral palsy, she learned to be tough enough to survive. But when she tries to save someone else on the streets of Washington, DC, she's instead somehow sucked into Rhen's cursed world.
Break the curse, save the kingdom. 
A prince? A monster? A curse? Harper doesn't know where she is or what to believe. But as she spends time with Rhen in this enchanted land, she begins to understand what's at stake. And as Rhen realizes Harper is not just another girl to charm, his hope comes flooding back. But powerful forces are standing against Emberfall . . . and it will take more than a broken curse to save Harper, Rhen, and his people from utter ruin.
February
---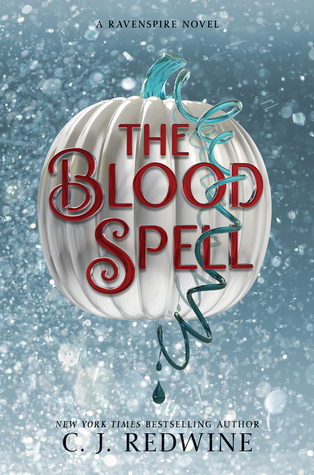 Title: The Blood Spell (book #4)
Author: C.J Redwine
Release date: February 13, 2019
Retelling of: Cinderella
Blue de la Cour has her life planned: hide the magic in her blood and continue trying to turn metal into gold so she can help her city's homeless. But when her father is murdered and a cruel but powerful woman claims custody of Blue and her property, one wrong move could expose her—and doom her once and for all. The only one who can help? The boy she's loathed since childhood: Prince Kellan.
Kellan Renard, crown prince of Balavata, is walking a thin line between political success and devastating violence. Newly returned from boarding school, he must find a bride among the kingdom's head families and announce his betrothal—but escalating tension among the families makes the search nearly impossible. He's surprised to discover that the one person who makes him feel like he can breathe is Blue, the girl who once ruined all his best adventures.
When mysterious forces lead to disappearances throughout Balavata, Blue and Kellan must work together to find the truth. What they discover will lead them to the darkest reaches of the kingdom, and to the most painful moments of their pasts. When romance is forbidden and evil is rising, can Blue save those she loves, even if it costs her everything?
Title: Last of Her Name
Author: Jessica Khoury
Release date: February 26, 2019
Retelling of: Anastasia
Sixteen years ago, rebellion swept the galaxy known as the Belt of Jewels. Every member of the royal family was murdered–down to their youngest child, Princess Anya–and the Union government rose in its place. But Stacia doesn't think much about politics. She spends her days half-wild, rambling her father's vineyard with her closest friends, Clio and Pol.
That all changes the day a Union ship appears in town, carrying the leader of the Belt himself, the Direktor Eminent. The Direktor claims that Princess Anya is alive, and that Stacia's sleepy village is a den of empire loyalists, intent on hiding her. When Stacia is identified as the lost princess, her provincial home explodes into a nightmare.
Pol smuggles her away to a hidden escape ship in the chaos, leaving Clio in the hands of the Union. With everything she knows threading away into stars, Stacia sets her heart on a single mission. She will find and rescue Clio, even with the whole galaxy on her trail.
March
---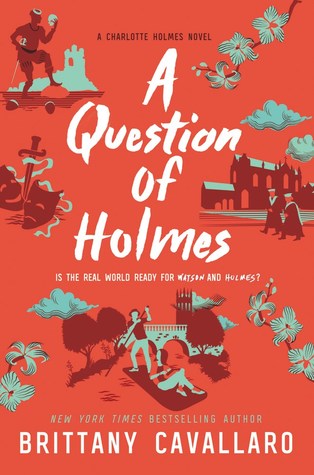 Title: A Question of Holmes (book #4)
Author: Brittany Cavallaro
Release date: March 5, 2019
Retelling of: Sherlock Holmes
Charlotte Holmes and Jamie Watson think they're finally in the clear. They've left Sherringford School—and the Moriartys—behind for a pre-college summer program at Oxford University. A chance to start from scratch and explore dating for the first time, while exploring a new city with all the freedom their program provides. But when they arrive, Charlotte is immediately drawn into a new case: a series of accidents have been befalling the members of the community theater troupe in Oxford, and now, on the eve of their production of Hamlet, they're starting all over again. What once seemed like a comedy of errors is now a race to prevent the next tragedy—before Charlotte or Jamie is the next victim.
Title: Bloodleaf
Author: Crystal Smith
Release date: March 12, 2019
Retelling of: The Goose Girl
Princess Aurelia is a prisoner to her crown and the heir that nobody wants. Surrounded by spirits and banned from using her blood-magic, Aurelia flees her country after a devastating assassination attempt. To escape her fate, Aurelia disguises herself as a commoner in a new land and discovers a happiness her crown has never allowed. As she forges new bonds and perfects her magic, she begins to fall for a man who is forbidden to rule beside her. But the ghosts that haunt Aurelia refuse to abandon her, and she finds herself succumbing to their call as they expose a nefarious plot that only she can defeat. Will she be forced to choose between the weight of the crown and the freedom of her new life?
Title: Izzy + Tristan
Author: Shannon Dunlap
Release date: March 12, 2019
Retelling of: Iseult and Tristan
Izzy, a practical-minded teen who intends to become a doctor, isn't happy about her recent move from the Lower East Side across the river to Brooklyn. She feels distanced from her family, especially her increasingly incomprehensible twin brother, as well as her new neighborhood.
And then she meets Tristan.
Tristan is a chess prodigy who lives with his aunt and looks up to his cousin, Marcus. He and Izzy meet one moonlit night, and together they tumble into a story as old and unstoppable as love itself.
Title: Sherwood
Author: Meagan Spooner
Release date: March 19, 2019
Retelling of: Robin Hood
Robin of Locksley is dead.
When news comes that he's fallen in battle at the King's side in the Holy Land, Maid Marian doesn't know how she'll go on. Betrothed to Robin, she was free to be herself, to flout the stifling rules of traditional society and share an equal voice with her beloved when it came to caring for the people of her land.
Now Marian is alone, with no voice of her own. The people of Locksley, persecuted by the Sheriff of Nottingham, are doomed to live in poverty or else face death by hanging. The dreadful Guy of Gisborne, the Sherriff's right hand, wishes to step into Robin's shoes as Lord of Locksley, and Marian's fiancé. Society demands that she accept her fate, and watch helplessly as her people starve.
When Marian dons Robin's green cloak, and takes up his sword and bow, she never intended that anyone should mistake her for Robin, returned from the Holy Land as a vigilante. She never intended that the masked, cloaked figure she created should stand as a beacon of hope and justice to peasant and noble alike. She never intended to become a legend.
But all of Nottingham is crying out for a savior. So Marian must choose to make her own fate and become her own hero…
Robin Hood.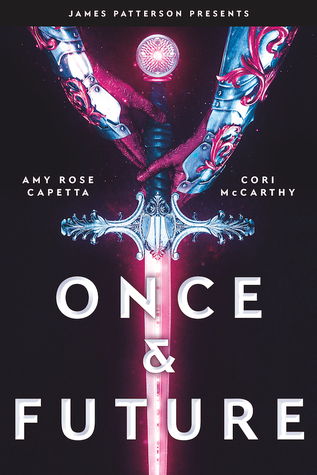 Title: Once & Future
Author: Amy Rose Capetta & Cori McCarthy
Release date: March 26, 2019
Retelling of: Arthurian Legend
I've been chased my whole life. As a fugitive refugee in the territory controlled by the tyrannical Mercer corporation, I've always had to hide who I am. Until I found Excalibur.
Now I'm done hiding.
My name is Ari Helix. I have a magic sword, a cranky wizard, and a revolution to start.
When Ari crash-lands on Old Earth and pulls a magic sword from its ancient resting place, she is revealed to be the newest reincarnation of King Arthur. Then she meets Merlin, who has aged backward over the centuries into a teenager, and together they must break the curse that keeps Arthur coming back. Their quest? Defeat the cruel, oppressive government and bring peace and equality to all humankind.
No pressure.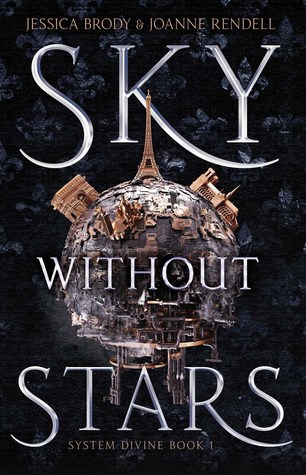 Title: Sky Without Stars
Author: Jessica Brody & Joanne Rendell
Release date: March 26, 2019
Retelling of: Les Miserables
A thief. An officer. A guardian.
Three strangers, one shared destiny . . .
When the Last Days came, the planet of Laterre promised hope. A new life for a wealthy French family and their descendants. But five hundred years later, it's now a place where an extravagant elite class reigns supreme; where the clouds hide the stars and the poor starve in the streets; where a rebel group, long thought dead, is resurfacing.
Whispers of revolution have begun—a revolution that hinges on three unlikely heroes…
Chatine is a street-savvy thief who will do anything to escape the brutal Regime, including spy on Marcellus, the grandson of the most powerful man on the planet.
Marcellus is an officer—and the son of a renowned traitor. In training to take command of the military, Marcellus begins to doubt the government he's vowed to serve when his father dies and leaves behind a cryptic message that only one person can read: a girl named Alouette.
Alouette is living in an underground refuge, where she guards and protects the last surviving library on the planet. But a shocking murder will bring Alouette to the surface for the first time in twelve years…and plunge Laterre into chaos.
All three have a role to play in a dangerous game of revolution—and together they will shape the future of a planet.
April
---
Title: The Princess and the Fangril
Author: Ashley Poston
Release date: April 2, 2019
Retelling of: The Princess and the Pauper
Imogen Lovelace is an ordinary fangirl on an impossible mission: save her favorite character, Princess Amara, from being killed off from her favorite franchise, Starfield. The problem is, Jessica Stone—the actress who plays Princess Amara—wants nothing more than to leave the intense scrutiny of the fandom behind. If this year's ExcelsiCon isn't her last, she'll consider her career derailed.
When a case of mistaken identity throws look-a-likes Imogen and Jess together, they quickly become enemies. But when the script for the Starfield sequel leaks, and all signs point to Jess, she and Imogen must trade places to find the person responsible. That's easier said than done when the girls step into each other's shoes and discover new romantic possibilities, as well as the other side of intense fandom. As these "princesses" race to find the script-leaker, they must rescue themselves from their own expectations, and redefine what it means to live happily ever after.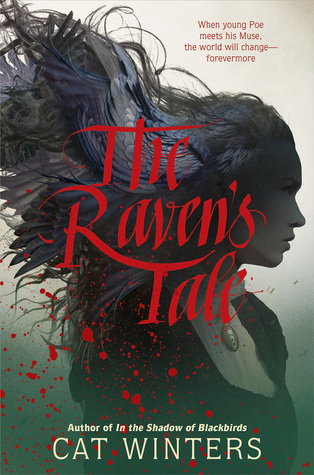 Title: The Raven's Tale
Author: Cat Winters
Release date: April 16, 2019
Retelling of: Edgar Allan Poe
Seventeen-year-old Edgar Poe counts down the days until he can escape his foster family—the wealthy Allans of Richmond, Virginia. He hungers for his upcoming life as a student at the prestigious new university, almost as much as he longs to marry his beloved Elmira Royster. However, on the brink of his departure, all his plans go awry when a macabre Muse named Lenore appears to him. Muses are frightful creatures that lead Artists down a path of ruin and disgrace, and no respectable person could possibly understand or accept them. But Lenore steps out of the shadows with one request: "Let them see me!"
Title: If I'm Being Honest
Author: Emily Wibberley & Austin Siegmund-Broka
Release date: April 23, 2019
Retelling of: The Taming of the Shrew
High school senior Cameron Bright's reputation can be summed up in one word: bitch. It's no surprise she's queen bee at her private L.A. high school—she's beautiful, talented, and notorious for her cutting and brutal honesty. So when she puts her foot in her mouth in front of her crush, Andrew, she fears she may have lost him for good.
In an attempt to win him over, Cameron resolves to "tame" herself, much like Katherine in Shakespeare's The Taming of the Shrew. First, she'll have to make amends with those she's wronged, which leads her to Brendan, the guy she labelled with an unfortunate nickname back in the sixth grade. At first, Brendan isn't all that receptive to Cameron's ploy. But slowly, he warms up to her when they connect over the computer game he's developing. Now if only Andrew would notice…
But the closer Cameron gets to Brendan, the more she sees he appreciates her personality—honesty and all—and wonders if she's compromising who she is for the guy she doesn't even want.
May
---
Title: Romanov
Author: Nadine Brandes
Release date: May 7, 2019
Retelling of: Anastasia
The history books say I died.
They don't know the half of it.
Anastasia "Nastya" Romanov was given a single mission: to smuggle an ancient spell into her suitcase on her way to exile in Siberia. It might be her family's only salvation. But the leader of the Bolshevik army is after them . . . and he's hunted Romanov before.
Nastya's only chances of survival are to either release the spell, and deal with the consequences, or enlist help from Zash, the handsome soldier who doesn't act like the average Bolshevik. Nastya's never dabbled in magic before, but it doesn't frighten her as much as her growing attraction for Zash. She likes him. She thinks he might even like her . . .
That is, until she's on one side of a firing squad . . . and he's on the other.
Title: No Place Like Here
Author: Christina June
Release date: May 21, 2019
Retelling of: Hansel & Gretel
Ashlyn Zanotti has big plans for the summer. She's just spent a year at boarding school and can't wait to get home. But when Ashlyn's father is arrested for tax evasion and her mother enters a rehab facility for "exhaustion," a.k.a. depression, her life is turned upside down.
The cherry on top? Ashlyn's father sends her to work with a cousin she doesn't even know at a rustic team-building retreat center in the middle of nowhere. A self-proclaimed "indoor girl," not even Ash's habit of leaving breadcrumb quotes—inspirational sayings she scribbles everywhere—can help her cope.
With a dangerously careless camp manager doling out grunt work, an overbearing father trying to control her even from prison, and more than a little boy drama to struggle with, the summer is full of challenges. And Ashlyn must make the toughest decision of her life: keep quiet and follow her dad's marching orders, or find the courage to finally stand up to her father to have any hope of finding her way back home.
Title: Stepsister
Author: Jennifer Donnelly
Release date: May 28, 2019
Retelling of: Cinderella
Isabelle should be blissfully happy – she's about to win the handsome prince. Except Isabelle isn't the beautiful girl who lost the glass slipper and captured the prince's heart. She's the ugly stepsister who's cut off her toes to fit into Cinderella's shoe … which is now filling with blood.
When the prince discovers Isabelle's deception, she is turned away in shame. It's no more than she deserves: she is a plain girl in a world that values beauty; a feisty girl in a world that wants her to be pliant.
Isabelle has tried to fit in. To live up to her mother's expectations. To be like her stepsister. To be sweet. To be pretty. One by one, she has cut away pieces of herself in order to survive a world that doesn't appreciate a girl like her. And that has made her mean, jealous, and hollow.
Until she gets a chance to alter her destiny and prove what ugly stepsisters have always known: it takes more than heartache to break a girl.
June
---
Title: The Beholder
Author: Anna Bright
Release date: June 4, 2019
Retelling of: The Odyssey/Cinderella
Selah has waited her whole life for a happily ever after. As the only daughter of the leader of Potomac, she knows her duty is to find the perfect match, a partner who will help secure the future of her people. Now that day has finally come.
But after an excruciatingly public rejection from her closest childhood friend, Selah's stepmother suggests an unthinkable solution: Selah must set sail across the Atlantic, where a series of potential suitors awaits—and if she doesn't come home engaged, she shouldn't come home at all.
From English castle gardens to the fjords of Norge, and under the eye of the dreaded Imperiya Yotne, Selah's quest will be the journey of a lifetime. But her stepmother's schemes aren't the only secrets hiding belowdecks…and the stakes of her voyage may be higher than any happy ending.
Title: Ordinary Girls
Author: Blair Thornburgh
Release date: June 4, 2019
Retelling of: Sense and Sensibility
For two sisters as different as Plum and Ginny, getting on each other's nerves is par for the course. But when the family's finances hit a snag, sending chaos through the house in a way only characters from a Jane Austen novel could understand, the two drift apart like they never have before. Plum, a self-described social outcast, strikes up a secret friendship with the class jock, while Ginny's usual high-strung nature escalates to pure hysterics.
But this has always been the sisters' dynamic. So why does everything feel different this year? Maybe because Ginny is going to leave for college soon. Maybe because Plum finally has something that she doesn't have to share with her self-involved older sister. Or maybe because the girls are forced to examine who they really are instead of who their late father said they were. And who each girl discovers—beneath the years of missing their dad—could either bring them closer together…or drive them further apart.ordinary girls
Title: Teeth in the Mist
Author: Dawn Kirtagich
Release date: June 11, 2019
Retelling of: Faust
Before the birth of time, a monk uncovers the Devil's Tongue and dares to speak it. The repercussions will be felt for generations…
Sixteen-year-old photography enthusiast Zoey has been fascinated by the haunted, burnt-out ruins of Medwyn Mill House for as long as she can remember–so she and her best friend, Poulton, run away from home to explore them. But are they really alone in the house? And who will know if something goes wrong?
In 1851, seventeen-year-old Roan arrives at the Mill House as a ward–one of three, all with something to hide from their new guardian. When Roan learns that she is connected to an ancient secret, she must escape the house before she is trapped forever.
1583. Hermione, a new young bride, accompanies her husband to the wilds of North Wales where he plans to build the largest water mill and mansion in the area. But rumors of unholy rituals lead to a tragic occurrence and she will need all her strength to defeat it.
Three women, centuries apart, drawn together by one Unholy Pact. A pact made by a man who, more than a thousand years later, may still be watching…
Title: The Evil Queen
Author: Gena Showalter
Release date: June 25, 2019
Retelling of: Snow White (Evil Queen)
Welcome to the Forest of Good and Evil. A dream come true, and a living nightmare.
Evil isn't born, it's made. One thought and action at a time. Take a good look at what you've made.
Far, far away, in the realm of Enchantia, creatures of legend still exist, magic is the norm and fairy tales are real. Except, fairy tales aren't based on myths and legends of the past—they are prophecies of the future.
Raised in the mortal realm, Everly Morrow has no idea she's a real life fairy tale princess—until she manifests an ability to commune with mirrors.
Look. See… What will one peek hurt?
Soon, a horrifying truth is revealed. She is fated to be Snow White's greatest enemy, the Evil Queen.
With powers beyond her imagination or control—and determined to change Fate itself—Everly returns to the land of her birth. There, she meets Roth Charmaine, the supposed Prince Charming. Their attraction is undeniable, but their relationship is doomed.
As bits and pieces of the prophecy unfold, Everly faces one betrayal after another, and giving in to her dark side proves more tempting every day. Can she resist, or will she become the queen—and villain—she was born to be?
July
---
August
---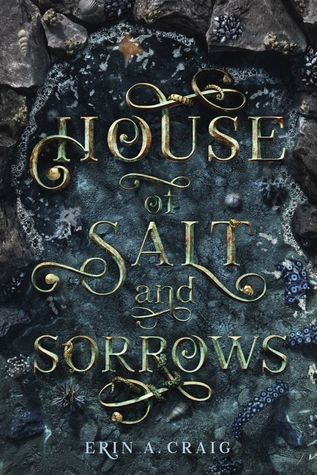 Title: House of Salt and Sorrows
Author: Erin A. Craig
Release date: August 6, 2019
Retelling of: Twelve Dancing Princesses
In a manor by the sea, twelve sisters are cursed.
Annaleigh lives a sheltered life at Highmoor, a manor by the sea, with her sisters, their father, and stepmother. Once they were twelve, but loneliness fills the grand halls now that four of the girls' lives have been cut short. Each death was more tragic than the last—the plague, a plummeting fall, a drowning, a slippery plunge—and there are whispers throughout the surrounding villages that the family is cursed by the gods.
Disturbed by a series of ghostly visions, Annaleigh becomes increasingly suspicious that the deaths were no accidents. Her sisters have been sneaking out every night to attend glittering balls, dancing until dawn in silk gowns and shimmering slippers, and Annaleigh isn't sure whether to try to stop them or to join their forbidden trysts. Because who—or what—are they really dancing with?
When Annaleigh's involvement with a mysterious stranger who has secrets of his own intensifies, it's a race to unravel the darkness that has fallen over her family—before it claims her next.
Title: Sea Witch Rising (book#2)
Author: Sarah Henning
Release date: August 6, 2019
Retelling of: The Little Mermaid
Runa's little sister Alia is about to die. According to the deal Alia made with the Sea Witch, she only has 12 hours left as a human to win her prince's love or perish. But Runa knows the prince isn't capable of true love, so she makes her own bargain with the Sea Witch and prepares to bring her sister back under the sea—whether Alia likes it or not.
Evie has spent decades dwelling on the events that turned her into the Sea Witch—long enough to formulate a plan to save herself from a murky fate. But to succeed, she'll need to manipulate a few mermaids into bringing her what she needs for the spell.
As Runa and Evie's fates intertwine, they find themselves caught in the middle of a deadly conflict between land and sea. Will they be willing to sacrifice their own hearts' desires for a chance to save their worlds?
Title: Wild Savage Stars (book#2)
Author: Kristina Perez
Release date: August 27, 2019
Retelling of: Tristan + Iseult
Branwen has a secret powerful enough to destroy two kingdoms.
Her ancient magic led to a terrible betrayal by both her best friend, the princess Essy, and her first love, Tristan. Now this same magic is changing Branwen. Adrift in a rival court, Branwen must hide the truth from the enemy king by protecting the lovers who broke her heart―and finds herself considering a darker path.
Not everyone wants the alliance with Branwen's kingdom to succeed―peace is balanced on a knife's edge, and her only chance may be to embrace the darkness within…
September
---
Title: Coral
Author: Sara Ella
Release date: September 10, 2019
Retelling of: The Little Mermaid
Sixteen-year-old mermaid Coral has always been different, standing out from her stoic sisters in a society where blending in is key. Worse yet, she fears she has been afflicted with the dreaded Disease. Said to be carried by humans, the Disease imposes emotions on its victims, causing them to commit unspeakable acts. The growing illness inside her, while terrifying, fascinates her very core. Where others see danger, Coral sees life. Could it be the colorless merfolk who are truly ill?
Above the sea, seventeen-year-old Brooke Jordan has nothing left to give. A homeless girl abandoned and forgotten, the only thing Brooke can rely on is the ocean. Her aching feet find refuge within the cool and comforting waves, while her broken heart grows harder with each passing day. When Brooke's and Coral's worlds collide, everything alters in an instant. From learning to stand alone, to discovering the strength it takes to rely on another, the girls find that living requires taking that first painful breath. Each must make sacrifices, and when it comes to finding true love? Let's just say the boys in their lives must learn to swim if they're ever going to survive the storms.
Battling the odds against them, the girls will do whatever it takes to survive. But what must end for love and life to finally begin?
Taking a new twist on Hans Christian Andersen's beloved fairy tale, this modern-day story explores mental health from several perspectives, questioning what it means to be human in a world where humanity often seems lost.
Title: Tiger Queen
Author: Annie Sullivan
Release date: September 10, 2019
Retelling of: The Lady , or the Tiger
In the mythical desert kingdom of Achra, an old law forces sixteen-year-old Princess Kateri to fight in the arena against twelve suitors to prove her right to rule. For Kateri, losing is not an option because in order to fulfil her promise to her late mother, she must win to keep her crown and lead her people. The situation outside the palace is uneasy. The harsh desert is unforgiving, water is scarce, and Kateri's people are thirsty. To make matters worse, the gang of thieving Desert Boys, the same group that killed Kateri's mother and her new baby, frequently raids the city wells and steals water, forcing the king to ration what little water is left. The punishment for stealing water is the choice between two doors. Behind one door lies freedom and behind the other is a tiger.
The people of Achra are growing restless and distrustful of the monarchy, and when Kateri's final opponent is announced, she knows she cannot win. In her desperation, Kateri turns to the desert and the one person she never thought she'd side with. Her future now, too, is behind two doors—only she's not sure which holds the key to keeping her kingdom and which will release the tiger.
Title: A Dream so Dark (book #2)
Author: L.L McKinney
Release date: September 24, 2019
Retelling of: Alice in Wonderland
Still reeling from her recent battle (and grounded until she graduates), Alice must abandon her friends to complete her mission: find The Heart and prevent the Red Lady's rise. But the deeper she ventures into Wonderland, the more topsy-turvy everything becomes. It's not until she's at her wits end that she realizes—Wonderland is trying to save her.
There's a new player on the board; a poet capable of using Nightmares to not only influence the living but raise the dead. This Poet is looking to claim the Black Queen's power—and Alice's budding abilities—as their own.
Dreams have never been so dark in Wonderland, and if there is any hope of defeating this mystery poet's magic, Alice must confront the worst in herself, in the people she loves, and in the very nature of fear itself.
Title: His Hideous Hearts (Anthology)
Author: Various
Release date: September 24, 2019
Retelling of: Edgar Allan Poe
Poe's most surprising, unsettling, and popular tales for a new generation.
Edgar Allan Poe may be a hundred and fifty years beyond this world, but the themes of his beloved works have much in common with modern young adult fiction. Whether the stories are familiar to readers or discovered for the first time, readers will revel in Edgar Allan Poe's classic tales, and how they've been brought to life in 13 unique and unforgettable ways.
October
---
Title: Lifestyles of Gods and Monsters
Author: Emily Robertson
Release date: October 20, 2019
Retelling of: The Minotaur
Sixteen-year-old Ariadne's whole life is curated and shared with the world. Her royal family's entertainment empire is beloved by the tabloids, all over social media, and the hottest thing on television. The biggest moneymaker? The Labyrinth Contest, a TV extravaganza in which Ariadne leads fourteen teens into a maze to kill a monster. To win means endless glory; to lose means death. In ten seasons, no one has ever won.
When the gorgeous, mysterious Theseus arrives at the competition and asks Ariadne to help him to victory, she doesn't expect to fall for him. He might be acting interested in her just to boost ratings. Their chemistry is undeniable, though, and she can help him survive. If he wins, the contest would end for good. But if she helps him, she doesn't just endanger her family's empire―the monster would have to die. And for Ariadne, his life might be the only one worth saving.
Ariadne's every move is watched by the public and predestined by the gods, so how can she find a way to forge her own destiny and save the people she loves?
November
---
Title: A Thousand Fires
Author: Shannon Price
Release date: November 5, 2019
Retelling of: The Iliad
10 Years. 3 Gangs. 1 Girl's Epic Quest…
Valerie Simons knows the Wars are dangerous—her little brother was killed by the Boars two years ago. But nothing will sway Valerie from joining the elite and beautiful Herons with her boyfriend Matt to avenge her brother. But when Jax, the volatile and beyond charismatic leader of the Stags, promises her revenge, Valerie is torn between old love and new loyalty.
Title: The Guinevere Deception
Author: Kiersten White
Release date: November 5, 2019
Retelling of: Arthurian Legend
There was nothing in the world as magical and terrifying as a girl.
Princess Guinevere has come to Camelot to wed a stranger: the charismatic King Arthur. With magic clawing at the kingdom's borders, the great wizard Merlin conjured a solution–send in Guinevere to be Arthur's wife . . . and his protector from those who want to see the young king's idyllic city fail. The catch? Guinevere's real name–and her true identity–is a secret. She is a changeling, a girl who has given up everything to protect Camelot.
To keep Arthur safe, Guinevere must navigate a court in which the old–including Arthur's own family–demand things continue as they have been, and the new–those drawn by the dream of Camelot–fight for a better way to live. And always, in the green hearts of forests and the black depths of lakes, magic lies in wait to reclaim the land. Arthur's knights believe they are strong enough to face any threat, but Guinevere knows it will take more than swords to keep Camelot free.
Deadly jousts, duplicitous knights, and forbidden romances are nothing compared to the greatest threat of all: the girl with the long black hair, riding on horseback through the dark woods toward Arthur. Because when your whole existence is a lie, how can you trust even yourself?