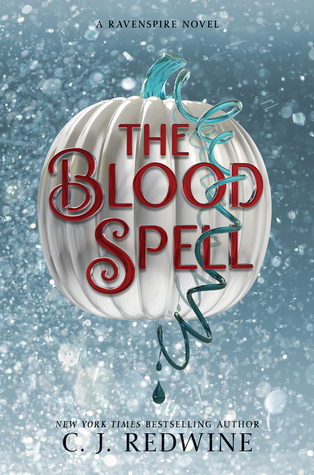 The Blood Spell
Author: C.J. Redwine
Publication date: February 12, 2019
Genre: YA fantasy/retelling
Pages: 400
Publisher: Blazer + Bray
---
Synopsis
Blue de la Cour has her life planned: hide the magic in her blood and continue trying to turn metal into gold so she can help her city's homeless. But when her father is murdered and a cruel but powerful woman claims custody of Blue and her property, one wrong move could expose her—and doom her once and for all. The only one who can help? The boy she's loathed since childhood: Prince Kellan.
Kellan Renard, crown prince of Balavata, is walking a thin line between political success and devastating violence. Newly returned from boarding school, he must find a bride among the kingdom's head families and announce his betrothal—but escalating tension among the families makes the search nearly impossible. He's surprised to discover that the one person who makes him feel like he can breathe is Blue, the girl who once ruined all his best adventures.
When mysterious forces lead to disappearances throughout Balavata, Blue and Kellan must work together to find the truth. What they discover will lead them to the darkest reaches of the kingdom, and to the most painful moments of their pasts. When romance is forbidden and evil is rising, can Blue save those she loves, even if it costs her everything?
---
★★★★.5
This might be a hot mess of a review so buckle up children.
The Blood Spell is the fourth book in the Ravenspire series. No, you don't need to read the previous books to read this, they all follow a different character from different kingdoms. Each book is a separate story. You will however see characters from previous books but you wont be spoiled and you wont need to know their story. I would however suggest reading The Traitor Prince before this one as they are happening at the same time.
Another amazing addition to the Ravenspire world, a Cinderella retelling where Cinderella is a talented alchemist and has magic.
This is a Cinderella retelling following the main character Blue de la Cour, a commoner, and the Crown Prince Kellen. There's also a third POV from the evil woman who becomes Blue's guardian after her father dies (not a spoiler it says above in the synopsis). In the Kingdom of Balavata magic is outlawed and using magic is punishable by death. Blue of course, has magic, she has Fae blood running through her veins and she has to hide it.
I absolutely loved being back in the Ravensire world. C.J Redwine has crafted such a magical and fascinating world and every kingdom is different, they are ruled differently, their beliefs are different their views on magic are different and its like stepping into a completely different world that feels familiar.
The Blood Spell was just as fantastic as the first three books, it was magical, whimsical, brutal and captivating. I think Blue is my favourite character C.J has created so far in this world. She's absolutely amazing, she's determined, compassionate, caring, fierce and selfless. She's also a talented alchemist and she possesses magic. She also thinks about those who no one else thinks about, she wants to help all of the homeless children in the kingdom and she'll try her hardest to do just that. Bonus points for blue having a one eyed cat that loves her.
While this is a Cinderella retelling, it thankfully doesn't follow the story exactly making The Blood Spell completely original. There are a few nods to the original tale, like the pumpkin carriage and the glass slipper but other than that its pretty different.
I think my favourite part of the story was the characters. I loved the interactions between Blue and Kellen and seeing their relationship develop over the course of the book. The romance in here was so sweet, it was a semi slow burn with many stolen moments and confessions.
The most refreshing thing about this book was the parents. They weren't evil and didn't treat their children like trash. The relationship between Blue, her dad and Grand'mere was so beautiful and nice to see in a YA book. The relationship between Kellen and his mother was also wonderful, she wasn't an evil queen trying to overthrow her son, or plot against the kingdom she was actually caring and kind and I really enjoyed seeing that for once.
Overall the story was even paced, dark, twisted, romantic and magical. I really enjoyed the actual plot of the story and there were a few twists and turns I didn't see coming at all. The world building is excellent you can actually get a feel for what the kingdom is like, Blue's house, the alchemists shop, the castle and basically every other part of the kingdom you see, the descriptions are great.
Obviously I'm a huge fan of this series and C.J's writing but if you love retellings I highly recommend picking this book up and all the previous books in the Ravenspire series. You won't be disappointed.
Thank you to HCC Frenzy for sending me an advanced copy for review.