oooh, ahhh, controversial topic!
We all have those authors we wont read for one reason or another and I thought I'd share a few of mine and why I wont read them. Some of these you might be like :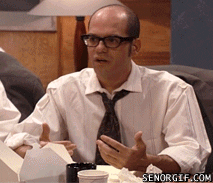 Others you might think "who? who are you talking about?" either way, I wont read them.
Now I have nothing against these authors as people, its just their writing and storytelling is not for me. Its mostly specific books that have turned me away from ever reading anything by these authors again.
Be warned there will be excessive swearing. Not sorry a bout this, swearing is therapeutic for me.
---
1. Cassandra Clare
Now, I know, she's huge, everyone loves her. I however, don't, I tried reading one of her books EONS ago and absolutely hated it. You might be thinking "why don't you give her another shot?" Because, I have zero interest in the shit she's producing ALSO, for god sake write a different story. Leave the Shadowhunters world behind, you already have like 15 books in this world. My god, produce something new. Talk about a series that's way too long. YES I KNOW THERE ARE MULTIPLE SERIES. go away.
2. Tomi Adeyemi
I refuse to read her books because of the recent crap she pulled. What she did was childish, uncalled for and downright petty. I feel like authors should support other authors, just like bloggers should support other bloggers. This is a tough industry to be in. Before you make a "claim" make sure you have all the facts, don't go and blast someone on social media.
3. Kiersten White
Kiersten White's writing and I don't get along. At all. I've tried, I really really tried but I just cant get through it. I feel like her stories are always so boring and I find myself thinking "when the fuck will this be over" I really wanted to like her writing but I just can't.
4. Audrey Coulthurst
If you don't know who she is, she wrote Of Fire and Stars which was hugely popular in 2016/2017. I read her book and holy fuck was it ever dull. I was so bored throughout the entire book. So. Damn. Bored. Nothing happened. Nothing at all! Not to mention there was a character named Mare who loved horses…..let that sink in. Speaking of horse stuff, there was a shitload of it, like A TON OF SHIT. There was something to do with horses on every single page. I don't like horses, I didn't know I was reading a damn horse book! Anyways, she's a no go for me.
5. Sandhya Menon
I've only read one of her books, From Twinkle With Love and I LOATHED it. Now, I'm not a fan of contemporary to begin with but I gave it a shot because it came in an Owlcrate but shit, it was bad. The MC was absolutely horrible, she was so delusional, stuck up and mean. Just down right mean. I have never in my life read a more delusional character than Twinkle, fuck. This book 1000000% turned me off from reading anything else by this author. I know so many people love her but, this book was utterly terrible. Lets not forget the slut shaming of her best friend because Twinkle was jealous, are you fucking kidding me!? I couldn't handle it. Here's my rant review for this.
6. John Green
Now, I'm sure John Green is a nice guy but his books just aren't for me. He writes pretty hard hitting contemporary and I'm not about that life. I did try to read The Fault in Our Stars when it was popular around the time the movie came out but I couldn't get through it. None of his books are appealing to me. I like to try contemporary every now and again just to see if there's anything good out there but his books are a NOPE NOPE NOPE for me. I've said this before and I'll say it again: I read to escape, magic and demons people, magic and demons.