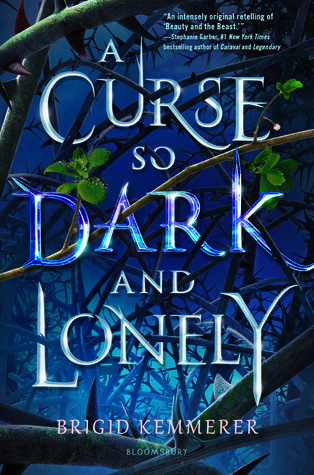 A Curse so Dark and Lonely
Author: Brigid Kemmerer
Publication date: January 29, 2019
Genre: YA fantasy/retelling
Pages: 496
Publisher: Bloomsbury YA
---
Synopsis
Fall in love, break the curse.
It once seemed so easy to Prince Rhen, the heir to Emberfall. Cursed by a powerful enchantress to repeat the autumn of his eighteenth year over and over, he knew he could be saved if a girl fell for him. But that was before he learned that at the end of each autumn, he would turn into a vicious beast hell-bent on destruction. That was before he destroyed his castle, his family, and every last shred of hope.
Nothing has ever been easy for Harper Lacy. With her father long gone, her mother dying, and her brother barely holding their family together while constantly underestimating her because of her cerebral palsy, she learned to be tough enough to survive. But when she tries to save someone else on the streets of Washington, DC, she's instead somehow sucked into Rhen's cursed world.
Break the curse, save the kingdom.
A prince? A monster? A curse? Harper doesn't know where she is or what to believe. But as she spends time with Rhen in this enchanted land, she begins to understand what's at stake. And as Rhen realizes Harper is not just another girl to charm, his hope comes flooding back. But powerful forces are standing against Emberfall . . . and it will take more than a broken curse to save Harper, Rhen, and his people from utter ruin. 
---
★★★★★
A Curse so Dark and Lonely deserves ALL of the hype its getting.
This is a Beauty and the Beast retelling and it was absolutely magnificent. I'm going to gush about this for ages. It's been a very long time since I've read a book that had me hooked from the first page but as soon as I started reading A Curse so Dark and Lonely I couldn't stop. Before I knew it 200 pages were read. I DEVOURED this book.
Brigid Kemmerer has created a dark, lush and dazzling world full of danger, secrets, monsters, heartbreak and temptation. This book is absolutely beautiful, addictive and immersive.
The story is told from two POV's Rhen the Crown Prince of Emberfall and Harper a normal girl with cerebral palsy from DC. I absolutely adored both of these characters, Harper is one tough cookie. She's determined, compassionate, caring, strong and doesn't let her cerebral palsy stop her from doing anything she wants to do. Rhen is your typical prince, charming, stunning and demanding but he's also a bit complex due to his years under the curse. He cares for his people and is tired of seeing them suffer, he's fiercely protective and he's determined to make this curse end.
There are a few side character worth mention the first being Grey the lord commander to Rhen. He's Rhen's only companion and is unfortunately part of the curse as well. He's strong, loyal and dutiful. But when Harper comes along he's thrown off his game, she continuously surprises him with her ideas, her determination and her defiance. Then there's Lilith the evil witch who cast the curse and oh, she's evil, evil, evil, evil.
What I really enjoyed about the plot was there was more at stake than just the curse to break. There are other more dangerous threats going on, not only does Rhen need to break the curse but he also has to try and stop this threat from ruining everything he knows and loves. And Harper has threats of her own, in her world her brother is in some deep and dangerous trouble and her mother is dying from cancer and doesn't have long to live.
As mentioned above Harper is determined, she's determined to get back home to save her brother and see her mother before she dies. Not once does she let this goal fade, she doesn't allow any feelings or threats in Rhen's world sway her from going home. I loved that. A lot of the time we see these young YA characters being all stupid because of their feelings but Harper didn't let that happen.
The only downside to this book was the world building I would have liked a little bit more than there was but hopefully in the next book we'll get more!
I would recommend this to everyone, especially if you love retellings this one is phenomenal!