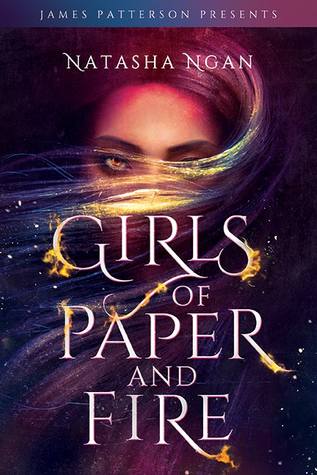 Girls of Paper and Fire
Author: Natasha Ngan
Publication date: November 6, 2018
Genre: YA fantasy
Pages: 400
Publisher: Jimmy Patterson Books
---
Synopsis
Each year, eight beautiful girls are chosen as Paper Girls to serve the king. It's the highest honor they could hope for…and the most cruel.
But this year, there's a ninth girl. And instead of paper, she's made of fire.
In this lush fantasy, Lei is a member of the Paper caste, the lowest and most oppressed class in Ikhara. She lives in a remote village with her father, where the decade-old trauma of watching her mother snatched by royal guards still haunts her. Now, the guards are back, and this time it's Lei they're after–the girl whose golden eyes have piqued the king's interest.
Over weeks of training in the opulent but stifling palace, Lei and eight other girls learn the skills and charm that befit being a king's consort. But Lei isn't content to watch her fate consume her. Instead, she does the unthinkable–she falls in love. Her forbidden romance becomes enmeshed with an explosive plot that threatens the very foundation of Ikhara, and Lei, still the wide-eyed country girl at heart, must decide just how far she's willing to go for justice and revenge.
TW: violence and sexual abuse.
---
★★.75 OR ★★★, cant decide.
Right, well lets just get into this review. This was an alright book to me, it didn't wow me, didn't blow me off my feet or make me fall in love with it.I feel like I'm the odd person out who didn't enjoy this book.
Girls of Paper and Fire is full of diversity, rebellion, girl power, romance, hope and courage.
What I really enjoyed about this book was the world building, I think Natasha did such a wonderful job creating this harsh and complex world full of monsters. There was quite a bit of backstory to the world and the author didn't throw it at you all at once. Little bits and pieces were scattered throughout the story.
I really enjoyed the classes of demons and humans, there are three classes:
paper: full human
steel: half human, half demon with some animal characteristics
moon: full demons with animal characteristics
I know a lot of people had issues with the demons being part human part animal but I didn't, I thought they were really interesting. The demons reminded me of the Chimera from Daughter of Smoke and Bone.
I really liked the majority of the side characters throughout the book, these women are strong, courageous and hopeful. They have all been sexually abused and are still standing strong and willing to fight for what they believe is right.  I really liked Wren the best, she's seen as this cold character with a touch exterior but shes incredibly strong, mentally, physically and emotionally, she is very complex, has her secrets and will do what ever she needs to do to protect herself, her friends and those she loves.
While I really enjoyed the world building and the classes of demons there were things I didn't like and the first being Lei, the main character. I couldn't connect to her at all, I found her whinny, naive and nosy and couldn't bother to care for her or her story. There were a few things I did like about Lei such as her courage, hope, love and standing up for what she believes in. She did have some powerful and inspiring moments but I unfortunately couldn't connect with her at all. Not only could I not connect with Lei, I couldn't connect with the story at all, I felt detached from it and found myself wondering "is this almost over?"
The last thing I didn't enjoy was the romance and that's all on me. One of my least favourite tropes is forbidden romance so I couldn't get behind it. I couldn't bring myself to care for the romance, the characters involved, what I did like about it was that it is an  LGBT+ romance.
I really was hoping to love this book, I wanted to love the inside as much as I love the cover but alas, it didn't happen. I might give it a second try at a later date but as of right now these re my thoughts on Girls of Paper and Fire.
I would recommend this book to any high fantasy lovers, those who love forbidden romance, rebellion, strong women and people standing up for what they believe in. I know this book has landed on many peoples favourite shelves and it will land on many many more. I will read the next book and I hope I'll enjoy the story more.