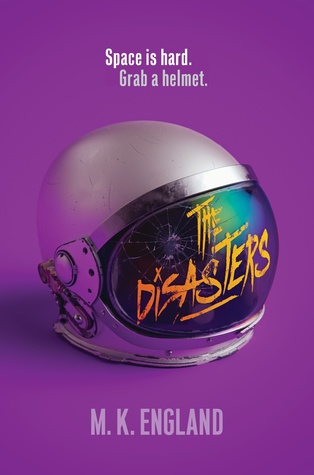 The Disasters
Author: M.K Englind
Publication date: December 18, 2018
Genre: YA Sci-fi
Pages: 368
Publisher: HarperCollins
---
Synopsis
Hotshot pilot Nax Hall has a history of making poor life choices. So it's not exactly a surprise when he's kicked out of the elite Ellis Station Academy in less than twenty-four hours.
But Nax's one-way trip back to Earth is cut short when a terrorist group attacks the Academy. Nax and three other washouts escape—barely—but they're also the sole witnesses to the biggest crime in the history of space colonization. And the perfect scapegoats.
On the run and framed for atrocities they didn't commit, Nax and his fellow failures execute a dangerous heist to spread the truth about what happened at the Academy.
They may not be "Academy material," and they may not get along, but they're the only ones left to step up and fight.
---
⭐️⭐️⭐️.75
This was such a fantastic, diverse and fun sci-fi story! I vaguely remember someone saying this was like The Breakfast Club meets Firefly and I must say, that is a lie. The Firefly part sure, but this is nothing like The Breakfast Club, so if you're going in expecting that, don't.
This is a story about friendship, family, adventure, teamwork and of course, saving the universe!
The Disasters is told from Nax, the main character POV and it follows a group of misfit rejects who are on the run and are determined to save the universe. Nax and four other cadets  have been kicked out of an elite space academy for various reasons, upon being kicked out the academy is infiltrated and attacked. The attack leaves hundreds of people dead but Nax and his band of misfits are able to steal a spaceship and escape. Of course, this band of misfits are the only people who really know what's going on and the absolute disaster that's going to happen in X amount of days, so naturally, they need to save the universe!
If you're looking for a diverse read that's full of adventure, comedy, high stakes situations and friendships look no further. This is probably the most diverse book I've read this year and I loved it. The 6 main character are all from different backgrounds, they are highly diverse in religion, race, sexuality and gender identity.
Nax is a great narrator, he's very likeable and relatable. He is awkward at times, experiences anxiety in certain situations, he's a bit cocky and a show off, he swears which we hardly see in YA and he has a relatable family situation. Not only is Nax a great character but so are the others, they are all highly likeable and mesh so well together. These character aren't perfect, they all have their own flaws which makes them enjoyable to read.
The really great thing about this book is how the characters have to quickly learn to trust each other, if they don't they could really end up in some horrible situations or dead. This group forms and unbreakable bond while going through a devastating and life changing situation, they form this kind of family of misfits who all believe in and support each other and are ready to kick some ass and save the universe together.
This was a really interesting world, Humans have colonized on other planets , the Academy is on the moon, once you leave earth and touch down on another planet you can't return. All of the planets are very different from each other and they appear to have been colonized by different countries so they vary in their culture. The world building was absolutely magnificent, the descriptions were amazing and vibrant, I could really piece together each scene and picture the planets and cities.
The thing I didn't enjoy about this was the fact that everything was too easy for the characters, although there were high stakes situations the stakes weren't high enough. All of their plans worked flawlessly with minor interruptions. There wasn't a single moment where I thought " oh no, they aren't going to make it". That's basically the only thing I didn't like about The Disasters.
If you're looking for a fun, comedic, diverse sci-fi I'd definitely recommend The Disasters, I think many people will enjoy it.