Hellooooo! I'm back with another Waiting on Wednesday post, this week I'm going to share some October releases that I'm really looking forward too. There are so many books coming out this month my bank account is weeping. yesterday was a PHENOMENAL day for book releases!
---
Release date: October 2, 2018
Beware of the woods and the dark, dank deep.
He'll follow you home, and he won't let you sleep.
Who are the Sawkill Girls?
Marion: the new girl. Awkward and plain, steady and dependable. Weighed down by tragedy and hungry for love she's sure she'll never find.
Zoey: the pariah. Luckless and lonely, hurting but hiding it. Aching with grief and dreaming of vanished girls. Maybe she's broken—or maybe everyone else is.
Val: the queen bee. Gorgeous and privileged, ruthless and regal. Words like silk and eyes like knives, a heart made of secrets and a mouth full of lies.
Their stories come together on the island of Sawkill Rock, where gleaming horses graze in rolling pastures and cold waves crash against black cliffs. Where kids whisper the legend of an insidious monster at parties and around campfires.
Where girls have been disappearing for decades, stolen away by a ravenous evil no one has dared to fight… until now.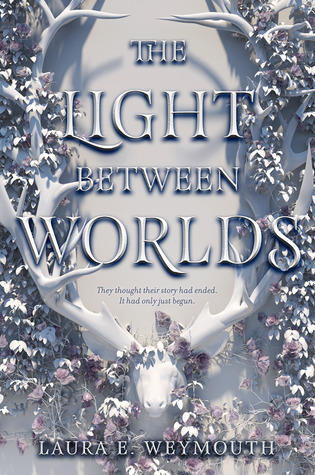 The Light Between Worlds by Laura E. Weymouth
Release date: October 23, 2018
Five years ago, Evelyn and Philippa Hapwell cowered from air strikes in a London bomb shelter. But that night took a turn when the sisters were transported to another realm called the Woodlands. In a forest kingdom populated by creatures out of myth and legend, they found temporary refuge.
When they finally returned to London, nothing had changed at all—nothing, except themselves.
Now, Ev spends her days sneaking into the woods outside her boarding school, wishing for the Woodlands. Overcome with longing, she is desperate to return no matter what it takes.
Philippa, on the other hand, is determined to find a place in this world. She shields herself behind a flawless exterior and countless friends, and moves to America to escape the memory of what was.
But when Evelyn goes missing, Philippa must confront the depth of her sister's despair and the painful truths they've been running from. As the weeks unfold, Philippa wonders if Ev truly did find a way home, or if the weight of their worlds pulled her under.
---
What books are you looking forward to in October?