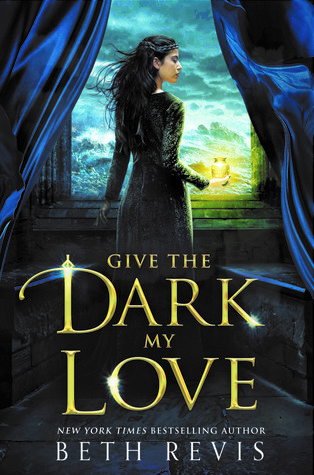 Give the Dark my love
Author: Beth Revis
Publication date: September 25, 2018
Genre: YA fantasy
Pages: 456
Publisher: Razorbill
Buy it: Indigo | AmazonCA | B&N | AmazonUS | Book Depository
---
Synopsis
When seventeen-year-old Nedra Brysstain leaves her home in the rural, northern territories of Lunar Island to attend the prestigious Yugen Academy, she has only one goal in mind: learn the trade of medicinal alchemy. A scholarship student matriculating with the children of Lunar Island's wealthiest and most powerful families, Nedra doesn't quite fit in with the other kids at Yugen, who all look down on her. 
All, except for Greggori "Grey" Astor. Grey is immediately taken by the brilliant and stubborn Nedra, who he notices is especially invested in her studies. And that's for a good reason: a deadly plague has been sweeping through the North, and it's making its way toward the cities. With her family's life–and the lives of all of Lunar Island's citizens–on the line, Nedra is determined to find a cure for the plague. 
Grey and Nedra continue to grow closer, but as the sickness spreads and the body count rises, Nedra becomes desperate to find a cure. Soon, she finds herself diving into alchemy's most dangerous corners–and when she turns to the most forbidden practice of all, necromancy, even Grey might not be able to pull her from the darkness.
---
⭐️⭐️⭐️.75
If you are looking for a DARK book to read during Fall/October this is a good one to add to your list.
If you like dark stories, zombies, death, morally grey characters, magic and an overall creepy atmosphere you might want to pick this up.
I absolutely adored the author's writing, it was clear, easy to read and it was descriptive which allowed me to envision myself in this world with the characters. The author was able to paint a gruesome and horrific setting that had me turning the pages and wanting more.
This is a dark and twisted tale about a girl willing to do whatever it takes to save the people of her land and to stop this plague from spreading. The first half of the book is pretty tame, Nedra is working her way through school, studying the disease that's ravaging through the poor and the outer communities. She's volunteering at the hospital trying to help the sick any way she can. Just after the halfway point in the book the story takes a bit of a turn, stuff gets REAL. Real dark and creepy there is lots of death, limb severing, horrible decisions and necromancy.
Nedra is a great main character. She's a girl from a small village with hopes and dreams to do bigger and better things. She wants to study medicinal alchemy and help the smaller villages like the one she grew up in who don't get the help they need. Nedra is determined, intelligent and passionate but she's also easily swayed and convinced.
Nedra being the determined soul that she is, is willing to do whatever it takes to stop this plauge, shes willing to cross lines that shouldn't be crossed and willing to lose herself. Throughout the story Nedra's character has a lot of development, in the beginning she follows the rules and is very firmly against necromancy, the idea is absolutely disgusting to her. As the plague gets worse and she continues to see the horror its causing, her beliefs and ideals start to become blurred. She delves into the depths of necromancy which is forbidden and she might not be able to stop herself.
I really enjoyed the other main character Grey. He may be a rich and entitled person that's never seen and understood the poor and hes never had to work a day in this life but he isn't a vicious character towards these people, especially not towards Nedra.  Grey is kind, compassionate, intelligent and a bit of a pushover. He offered kindness and friendship to Nedra when no one else would.
Besides the creepiness and darkness of this story I really enjoyed that there was a teeny tiny bit of romance but it didn't overpower the story and it didn't consume Nedra and make her a complete idiot and turn away from her goals.
While I did enjoy the book there were a few things that I was a little 'meh' about and those were the pace of the book for the first half. As I mentioned above the first half was pretty tame but it was also pretty slow paced. The story itself was pretty predictable for the most part, I could see where the story was going and the plot twists that came up. There were a few unnecessary scenes in the book that could have been cut because they didn't really add anything to the story.
Overall this was a great book and I'm interested to see what happens in the next one!