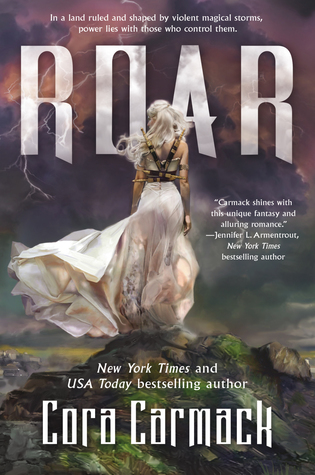 Roar
Author: Cora Carmack
Publication date: June 13, 2017
Genre: YA fantasy
Pages: 380
Publisher: Tor Teen
But it: Indigo | AmazonCA | B&N | AmazonUS | Book Depository
---
Synopsis
In a land ruled and shaped by violent magical storms, power lies with those who control them.
Aurora Pavan comes from one of the oldest Stormling families in existence. Long ago, the ungifted pledged fealty and service to her family in exchange for safe haven, and a kingdom was carved out from the wildlands and sustained by magic capable of repelling the world's deadliest foes. As the sole heir of Pavan, Aurora's been groomed to be the perfect queen. She's intelligent and brave and honorable. But she's yet to show any trace of the magic she'll need to protect her people.
To keep her secret and save her crown, Aurora's mother arranges for her to marry a dark and brooding Stormling prince from another kingdom. At first, the prince seems like the perfect solution to all her problems. He'll guarantee her spot as the next queen and be the champion her people need to remain safe. But the more secrets Aurora uncovers about him, the more a future with him frightens her. When she dons a disguise and sneaks out of the palace one night to spy on him, she stumbles upon a black market dealing in the very thing she lacks—storm magic. And the people selling it? They're not Stormlings. They're storm hunters.
Legend says that her ancestors first gained their magic by facing a storm and stealing part of its essence. And when a handsome young storm hunter reveals he was born without magic, but possesses it now, Aurora realizes there's a third option for her future besides ruin or marriage. 
She might not have magic now, but she can steal it if she's brave enough. 
Challenge a tempest. Survive it. And you become its master.
---
⭐️⭐️⭐️
This book had so much potential. The concept of the storms is so interesting. The book started off strong introducing the characters and setting up the scene. But it fell flat, there was a lot I didn't like. There will be SPOILERS.
I'm just going to hop right in and tell you what I didn't like.
The book jumps from POV's. The main POV is Rora but there are also a few others like Cassius, a servant named Novaya, Locke and a few other randos.
Cassius, Rora's betrothed from the Locke kingdom arrives to the palace and there's a spark between the two, they are drawn together. Cassius comes off as this dark, protective domineering man. He's in the book for maybe a total of 4 chapters and that's it. He basically disappears and only shows up in the book once or twice more for half a page… Why set him up as this main character then not use him. He would have been such a great character read from but we didn't get that.
Rora has no magic and ends up leaving the castle to follow some storm hunters to hopefully gain magic. Shes just ups and leaves her kingdom, leaving her mother who has lost everyone but Rora. And Rora doesn't tell her mother shes going she stages a kidnapping to leave. Rora is so incredibly selfish and short sighted, she doesn't think through her actions like,  what might actually happen if her plan didn't go correctly? What would happen to her mother and kingdom? She just didn't care.
We kept getting POVs from the servant Novaya and they were completely pointless, she added nothing to the story besides helping Roar fake her kidnapping and being thrown into jail. She was pointless.
Now lets talk about Locke. Rora meets Locke in an underground black market and decides to just leave with him and his crew to go fight storms. Locke comes off in the beginning as this possessive ass hole and that's exactly what he is. Hes possessive, obsessed and a complete dick. He keeps saying that he doesn't let his emotions get in the way and hes tough but as soon as he meets Rora that's thrown out the door. He's know this chick for like 3 days and he starts being possessive towards Rora, doesn't want o leave her, endangering his crew. Being unreasonable and he just decides he loves her. Just like that, a snap of the fingers and hes in love. His feelings for her were so Instalovey it was annoying. I didn't like the romance it was forced and horrible.
Another big part of the story i didn't like was the fact that these strange strong storms started happening as soon as Rora decided to joining the crew… I mean common sense clearly this bitch is causing the storms but it took THE ENTIRE BOOK for them to figure out Rora was causing these storms. FACE PALM! How they didn't realise this is beyond me, after the first storm happened I knew it was Rora.
Now, what I did like about the book, the concept of the storms was really interesting and a character introduced part way through the book the Stormlord has me interested enough to read the second book. I'm also interested to see what happens with Cassius because he doesn't seem like hes as bad as hes portrayed.
I didn't love it, I didn't hate it. Somewhere in the middle.