Heres another books I wasted my Time on! You can find the previous one here. Just a reminder I don't DNF books so I end up with some pretty crappy reads every now and then. I use lots of vulgar language so if that's not your thing you probably shouldnt read any further.
Both of the books I'll be talking about were read for a readathon in October and my god, they both sucked.
Theres Someone Inside Your House by Stephanie Perkins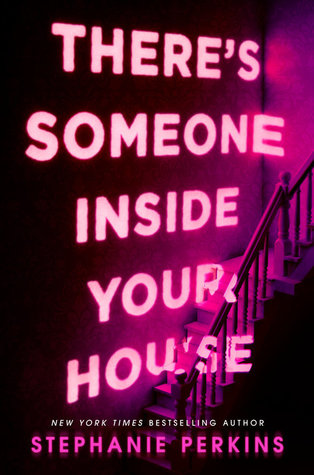 Synopsis
Love hurts…
Makani Young thought she'd left her dark past behind her in Hawaii, settling in with her grandmother in landlocked Nebraska. She's found new friends and has even started to fall for mysterious outsider Ollie Larsson. But her past isn't far behind.
Then, one by one, the students of Osborne Hugh begin to die in a series of gruesome murders, each with increasingly grotesque flair. As the terror grows closer and her feelings for Ollie intensify, Makani is forced to confront her own dark secrets.
---
This book. O.MG. THIS BOOK was horrible.
So fucking bad.
Think of a horrible cheesy horror movie where all the characters are just so fucking stupid and that's what you get here. The main character was so dumb, if you hear a noise in the basement and you're home alone WHY WOULD YOU GO INTO THE BASEMENT?? If weird shit is going on in your house CALL THE COPS. Don't try and figure t out yourself, dumbass. This was basically the whole book. The MC making stupid decisions, not involving the police when people are turning  up dead every day. EYE ROLL
This entire book was just so predictable. When something "spooky" happened the characters chose the dumbest option that put them in harms way. WHY?? No brains.
Not only were the characters complete morons the "love story" in this was so unnecessary and happened at the most inappropriate times. Like hello, if there is a killer down stairs you two aren't just going to take time out to have a little love fest. Like fuck off. There was also a ton of useless content in the story and I ended up skimming it. I didn't miss anything.
I guess if you love those horrible horror stories you might enjoy this. I couldn't get past the stupid characters.
---
Theres A Stranger In The House by Sheri Lapena
Synopsis
In this neighborhood, danger lies close to home. A domestic thriller packed full of secrets, and a twisty story that never stops—from the bestselling author of The Couple Next Door
He looks at her, concerned. "How do you feel?" She wants to say, Terrified. Instead, she says, with a faint smile, "Glad to be home."
Karen and Tom Krupp are happy—they've got a lovely home in upstate New York, they're practically newlyweds, and they have no kids to interrupt their comfortable life together. But one day, Tom returns home to find Karen has vanished—her car's gone and it seems she left in a rush. She even left her purse—complete with phone and ID—behind.
There's a knock on the door—the police are there to take Tom to the hospital where his wife has been admitted. She had a car accident, and lost control as she sped through the worst part of town.
The accident has left Karen with a concussion and a few scrapes. Still, she's mostly okay—except that she can't remember what she was doing or where she was when she crashed. The cops think her memory loss is highly convenient, and they suspect she was up to no good. 
Karen returns home with Tom, determined to heal and move on with her life. Then she realizes something's been moved. Something's not quite right. Someone's been in her house. And the police won't stop asking questions.
Because in this house, everyone's a stranger. Everyone has something they'd rather keep hidden. Something they might even kill to keep quiet.
---
This is a psychological thriller and upon reading the synopsis it sounded like it would be pretty goo. I was wrong. There were a few thrilling parts where you were like" OMG whats going to happen?!" but other than that this was pretty dull, the execution was POOR. The writing was absolute garbage which was unfortunate and the characters sucked.
It was overly descriptive about unnecessary things like Tom cleaning, we didn't need to know he used glass cleaner and paper towels to clean the glass topped coffee table. We didn't need to know that.
The characters were all pretty irritating and unlikable. How can you read a book whee all of the characters are UNLIKABLE??! It was rough let me tell you. Tom and Karen the "ideal" couple were dull as dirt. Tom was self absorbed and boring. Karen is a bit of a sketchy character while not as horrible as Tom she's still very unlikable. Everyone is so unreliable. and the female neighbour is just creepy AF. Sticking her nose in other peoples business and coming over at inappropriate times yet Karen and Tom never sent her away.. Fucking morons.
Don't waste your time. Shitty writing, shitty character, overly descriptive for no reason.