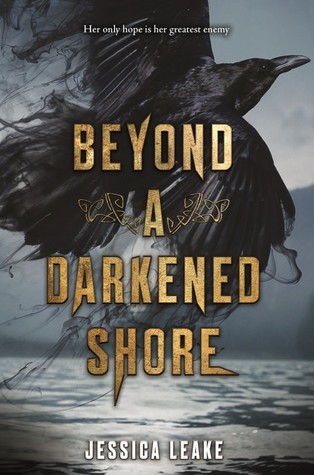 Beyond A Darkened Shore
Author: Jessica Leake
Publication Date: April 10, 2018
Genre: YA Fantasy/mythology
Pages: 435
Publisher: HarperTeen
But it: AmazonCA | Indigo | AmazonUS | B&N | Book Depository
---
Synopsis
The ancient land of Éirinn is mired in war. Ciara, Princess of Mide, has never known a time when Éirinn's kingdoms were not battling for power, or Northmen were not plundering their shores. 
The people of Mide have thankfully always been safe because of Ciara's unearthly ability to control her enemies' minds and actions. But lately, a mysterious crow has been appearing to Ciara, whispering warnings of an even darker threat. Although her clansmen dismiss her visions as pagan nonsense, Ciara fears this coming evil will destroy not just Éirinn, but the entire world. 
Then the crow leads Ciara to Leif, a young Northman leader. Leif should be Ciara's enemy, but when Ciara discovers that he, too, shares her prophetic visions, she knows he's something more. Leif is mounting an impressive army, and with Ciara's strength in battle the two might have a chance to save their world. 
With evil rising around them, they'll do what it takes to defend the land they love…even if it means making the greatest sacrifice of all.
---
⭐️⭐️⭐️⭐️⭐️
Wow. I don't think I can express my love for this book. It was amazing. Everything I've ever wanted. It has become one of my favourite books. Absolutely loved this.
This story has everything I love, romance, Norse and Celtic mythology, magic, adventure, battles, monsters and unlikely alliances.
Jessica Leake's writing is absolutely beautiful, the mix of Celtic and Norse mythology woven into the story made it magical and the description of characters, monsters and places was done really well.
The story follows the two main characters Ciara and Leif on a quest to vanquish the evil that's pillaging the lands. Ciara wants to save her family and clansmen from the horrific visions shes seen and Leif wants revenge for the death of his sister. Ciara has a separate journey to go on as well: mastering her powers and accepting where she came from.
What I really loved about this story is that the main character has a power but its not new to her, shes been dealing with it for years and shes learning to use it. This is so incredibly rare to read in YA fantasy and i'm applauding the author for making the character aware of their abilities when the story starts. Another thing I really enjoyed was the relationship between the two main character, I liked how the two were able to come together despite their difference and being enemies.
The main character Ciara  is a warrior and the Princess of Mide. She is a strong and determined female who doesn't believe she is invincible and feels fear and embraces it which makes her strong. She's very different from a lot of YA female characters you read about. She doesn't believe she's invincible, she is fearful and she's willing to learn and grow.
Leif is just an amazing character, you really just need to read the book to understand. He's a Northman, the enemy and hes caring, emotional, brutal and powerful. He forms and unlikely alliance with Ciara and the two set out on a quest to save all of Éirinn from the unfathomable monstrous giants that are pillaging the lands. On this journey the two character soon find out that the Celts and the Northmen aren't so different from each other and they aren't as horrible as each thought (love when this happens).
The use of Celtic and Norse mythology was fantastic we are introduced to so many different mythological creatures and beings. If you didn't know of any before reading this book you will after.
If you are a fan of anything Celtic or Norse you'll enjoy this.  If you love a fast paced fantasy with some romance you'll love this. If you enjoy historical fiction you'll enjoy this. If mythology is your jam, you'll love this. Its a wonderful fantasy I think most people will enjoy and this has become one of my favourite books. I can't wait to read more of Jessica Leake's books.